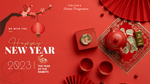 Get Ready for a Big New Year Celebration in Singapore 2023
Singapore is one of the most busiest places on earth during New Year's Eve. The city comes alive with celebrations, and this year will be bigger and better than ever! Here's what you need to know to make the most of the New Year's festivities.
The city-state is known for its amazing fireworks displays, and this year will be no exception. The fireworks show will take place at the Marina Bay area, where you can enjoy stunning views of the skyline as well as the fireworks. If you're looking for a more up-close and personal experience, there are plenty of other places to watch the show as well.
In addition to the fireworks, there will be plenty of other events happening throughout Singapore during New Year's Eve. Concerts, dances, and other parties will be taking place at popular venues throughout the city, so there's something for everyone. Make sure to book your tickets early to avoid disappointment!
What is New Year's Eve?
New Year's Eve is the last day of the year, typically celebrated on December 31. It's a time to celebrate the end of one year and the beginning of another. In many countries, New Year's Eve is a major event that involves large gatherings and special meals, snacks, dances, and drinks.
Where Should You Go for New Year's Eve 2023 in Singapore?
You might wondering where you should stop at your New Year's eve journey? Well, we'll be ringing in the New Year 2023 in style at the Marina Bay Sands! If you're looking to dance the night away and see in the New Year with a bang, that's the place to be. But if you're looking for something a little more low-key, there are plenty of other options available to you.
Why not check out the Orchard Road festivities? There'll be street performances, light shows and plenty of opportunities to get your shopping done. If you're feeling adventurous, why not head out to the jungle and see in the New Year while watching the fireflies? Or if you'd rather stay close to home, there are plenty of great options for New Year's Eve dinner and drinks.
No matter what you choose, we're sure you're going to have a fantastic time!
Best Ways to Celebrate New Year's Eve 2023 in Singapore
You've made it through another year and now it's time to celebrate! Ring in 2023 with a bang by checking out some of the best ways to celebrate New Year's Eve in Singapore.
We recommend heading to one of the popular rooftop bars in town for some amazing views of the city skyline as the fireworks go off. Alternatively, you could check out one of the many club events happening around the city - just make sure you have your dancing shoes ready!
If you're looking for something a little more chilled out, why not check out one of the many New Year's Eve concerts or theater performances taking place? Or take a stroll down Singapore's famous riverfront and enjoy the festive atmosphere.
Popular New Year Events to Attend
Are you wondering what exciting events will be happening in Singapore for New Year's Eve 2023? There are so many incredible events to attend; here are just a few you won't want to miss.
One of the most popular events each year is the Esplanade's Annual Countdown Party. Held at the Esplanade Outdoor Theater, the countdown party captures the energy of the coming year with a mix of live music and dance performances rooted in tradition and culture. Afterwards, stick around to watch the fireworks light up Singapore's night sky!
The Singapore Celebrations at Siloso Beach also draws an enormous crowd each year. This event features thrilling rides, delicious food stalls, and energetic crowds all night long. Plus, it offers a stunning view of fireworks that can be seen from anywhere on Sentosa Island.
If you're looking for something more low-key, join in on The Float @ Marina Bay to watch one of Singapore's largest floating celebrations. Listen to live bands and DJs as you watch acrobatic performances that light up the night sky with lasers, lights and more!
Delicious New Year's Eve Dinners in Singapore
Are you looking to eat the night away? There are plenty of delicious New Year's Eve dinners in Singapore that you can indulge in! From high-end seafood dinners to Singapore's famous hawker dishes, there are a variety of meals for everyone.
If you're a seafood fan, check out some of Singapore's top seafood restaurants where you can feast on fish, crabs, prawns and more. The exquisite flavors and innovative textures are unlike anything else.
If you're looking for something less extravagant but equally tasty, try out one of the local hawker centers scattered around the city. Here you'll find traditional dishes like satay skewers, chili crab and prata wrapped up in flavorful sauces that will tantalize your tastebuds.
Or if you're just craving a slice of pizza or a burger before ringing in the new year, there are plenty of western options to choose from as well. No matter what your preference is, you're sure to find something special for this special eve!
Creative Ways to Bring in the New Year
Are you looking for something out of the ordinary to make your New Year celebration in Singapore even more special? There are plenty of creative ideas to help make your night an unforgettable one.
If you're feeling adventurous, why not take a hot air balloon ride and enjoy the city from a bird's eye view? Or you could join the throngs of people who flock to Marina Bay Sands for an incredible view of the fireworks show over the bay!
Sailing on Singapore's historic river on a luxury boat is another option - it's perfect for those looking for an intimate celebration. For something a little different, gather together with family and friends at Sentosa or East Coast Park to enjoy a picnic with barbecue, drinks, and board games while watching the fireworks reflect off the water.
An Unforgettable Fireworks Display for New Years in Singapore 2023
It's never too early to start planning your New Year's Eve celebration in Singapore 2023. And trust me, you don't want to miss it - it's going to be an unforgettable experience.
Singapore is known for its dazzling fireworks display during its New Year's Eve celebrations, and 2023 will be no different. Instead of just one or two memorable moments of dazzling pyrotechnics, the whole skyline will be illuminated with colorful bursts of light and sound.
But how could you end the year without Shiora's massive promotion?
Shiora Singapore is having a year-end 12.12 sale with amazing discounts on a wide range of products. From aromatherapy oil diffusers and essential oils to hotel-inspired scent reed diffusers, you can find great deals on our top-of-quality and popular products. The sale starts on December 9th and runs until December 31st, so make sure to visit Shiora Singapore during this time to take advantage of the savings. With hot deals as buy one-for-one.  it's the perfect opportunity to grab some gifts for yourself or loved ones, or to simply elevate your housing quality. Don't miss out on the chance to save big at Shiora's year-end sale.
Conclusion
If you're looking for a big New Year celebration, Singapore is the place to be. With a wide range of activities and events happening throughout the city, there's something for everyone to enjoy. From fancy dinners to festive parties and fireworks, you'll be spoilt for choice. So start planning your trip and get ready to ring in the New Year in style.