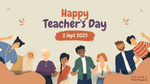 Best Teacher's Day Gift Ideas in Singapore: 20 Unique Gifts to Surprise Your Favorite Teachers in Singapore
So, Teacher's Day is coming up and you want to do something special for your favorite teachers who have inspired you over the years. While a card or small gift is always appreciated, for the teachers who have really made a difference, you want to go the extra mile. You're looking for unique gift ideas that will really surprise them and show how much they mean to you. Well, you've come to the right place. We've compiled a list of 20 unique Teacher's Day gift ideas in Singapore for 2023 that are sure to delight your favorite teachers. From personalized stationery to quirky desk accessories to subscription boxes, we have something for teachers of all subjects and styles. Keep reading for some inspiration to make this Teacher's Day extra special for the educators who have shaped you.
Why Buy Gifts for Teacher's Day? Show Your Appreciation
Why buy gifts for Teacher's Day? It's a chance to show your appreciation for the teachers who have made a difference in your life.
Teachers play such an important role in shaping our future, yet their efforts often go unrecognized. Giving a heartfelt gift on Teacher's Day is a simple way to say "thank you" for their time, patience, and care.
A thoughtful gift can brighten a teacher's day and make them feel valued. Whether it's a card expressing your gratitude, their favorite snack, or a useful item for their classroom, your teacher will surely appreciate the gesture.
At Shiora, we offer natural aromatherapy gifts that provide relaxation and lift the mood. Our reed diffusers, essential oil roll-ons, and blended oils are ideal for reducing stress and bringing tranquility. What teacher wouldn't want an uplifting gift to rejuvenate them during a busy school day?
Teacher's Day only comes once a year, so take the opportunity to give a gift that shows you care. Your teacher has given you so much; now is the time to give back. Let them know they made a difference and their hard work hasn't gone unnoticed. A simple "thank you" can go a long way in brightening a teacher's day.
Why not give it a try? Surprise your favorite teacher with a thoughtful gift. They deserve it!
Best Gift for Teachers in Singapore Under $20: Budget-Friendly Options
Looking for an affordable gift option for Teacher's Day in Singapore? We've got you covered. Here are some budget-friendly gifts under $20:
A personalized card or note expressing your gratitude is always a heartfelt option. Teachers appreciate knowing the impact they've had. You could also include a small gift card to their favorite coffee shop or store.
A scented candle or reed diffuser is a thoughtful gift that any teacher would enjoy. At Shiora, we offer natural essential oil reed diffusers for under $20 that provide a calming aroma. The lavender and bergamot blend is a favorite.
A desk organizer or pen holder is a useful option for any teacher. Help them keep their space tidy with a sleek metal or wood organizer. They'll think of you each time they use it.
A self-care set with lotion, bath products or a scented soap is a wonderful way for teachers to unwind from a long day. Add in a pack of tea, honey or chocolates for a complete relaxation set.
A book by their favorite author or on a topic they enjoy is always a good choice. See if you can find an inspiring book on education or personal development. Teachers are life-long learners and readers.
With so many affordable and thoughtful options, you can show your favorite teachers how much you appreciate them without breaking the bank. Put together a gift set with a few of these items for an extra special surprise. Your teachers deserve it!
Best Gift for Teachers in Singapore Under $50: Mid-Range Gift Ideas
Stationery Set
A personalized stationery set is a thoughtful gift that any teacher would appreciate. You can find stationery sets for under $50 that include a notebook, pen, pencil case, and other useful items. Have the items engraved or embossed with the teacher's name or a message like "World's Best Teacher." Teachers always need supplies for their classroom, so a stationery set is a practical but meaningful gift.
Coffee or Tea
If your teacher enjoys coffee or tea, a gift set from a local Singaporean brand is ideal. You can find high-quality loose leaf tea, artisanal coffee blends, or premium instant coffee and tea mixes for under $50. Add a personalized mug or tumbler to make it an even more thoughtful gift. Your teacher will surely appreciate starting each day with a cup of their favorite brew.
Self-Care Set
Teaching can be a demanding job, so a self-care set is a considerate gift that any teacher would value. You might include bath & body products like bath bombs, lotion, bubble bath; a scented candle; a book of relaxing puzzles or brain teasers; herbal tea; or other pampering items. Your teacher works hard and deserves to unwind and recharge. A self-care set is a thoughtful way to encourage them to practice self-care.
Gift Card
If you're not sure what to give your teacher or want them to pick out something they really want, a gift card is always a welcome option. Popular gift card choices for teachers include book stores, craft stores, coffee shops, and general retailers where they can find supplies for their classroom or personal use. Add a handwritten thank you note to make a simple gift card feel more personal.
Luxury Gifts for Teachers in Singapore: Splurge on Your Favorite Teacher
Luxury Reed Diffuser Gift Set
For teachers who appreciate high quality and luxurious scents, a reed diffuser gift set from Shiora would make an excellent gift. Their reed diffusers are made from natural essential oils and botanical extracts, with no harsh chemicals, for a pure aromatherapy experience.
You can choose the Luxury Reed Diffuser to include in your gift set with three 100ml reed diffusers in Shiora's most premium scents - Mercury Honey, Venus Rain, Saturn Icefall. The fragrances are intricately layered yet balanced, transforming any space into a relaxing oasis. Reed diffusers also make a great decorative piece with their elegant apothecary-style bottles.
Venus Rain: Strong lemongrass scent smoothened out by woody essential drops and finish with Cypress aroma. On top of that, the secret middle ingredients of this scent lie in the crushed lavender and sandalwood, this is to create a clean, soft and homely aroma.

Mercury Honey: Mild sweetness of honey lemon is enhanced with a garden of flowers: colourful Hibiscus, romantic Ylang Ylang, deep Violet and blue Lavender.

Saturn Icefall: Lemongrass is the all-time favourite classic ingredient in all refreshing aromas. Coupled with citrusy Bergamot and Orange will give you the relaxation of a hotel feel, followed by mid notes of Cypress, Sage, and a pinch of Lavender herb.
Any teacher would appreciate receiving such a luxurious wellness gift. At $128, this gift set is a splurge, but for a special teacher who has made a meaningful impact, it is a thoughtful way to show your gratitude and appreciation for them.
Essential Oil Gift Set
For teachers interested in the therapeutic benefits of essential oils, Shiora's Essential Oil with a diffuser is an excellent choice. It contains six 5ml bottles of Shiora's 100% pure essential oils - Lavender, Peppermint, Lemongrass, Sweet Orange, Eucalyptus and Bergamot. These oils can be used in an essential oil diffuser to freshen and purify the air, or diluted with a carrier oil for topical use.
The gift set also includes a ultrasonic diffuser that can run continuously for up to 8 hours. Your teacher can enjoy the clarifying and rejuvenating properties of essential oils in their home or classroom. This essential oil starter kit makes a wonderful wellness gift for any teacher.
DIY Gift Ideas for Teachers: Personalized and Heartfelt Creations
DIY Reed Diffuser
A homemade reed diffuser makes a thoughtful gift for a teacher. At Shiora, we sell natural essential oils and reed diffuser sticks that you can use to create your own custom diffuser. All you need is a glass container, essential oils, reed diffuser sticks and a carrier oil like jojoba oil.
Mix a few drops of your favorite essential oils - we suggest uplifting scents like lemon, lavender or grapefruit. Add the essential oils to a glass container along with the carrier oil. For every 10-15 drops of essential oil, use about 1/2 cup of carrier oil. Gently swirl or roll the container to blend the oils.
Soak the reed diffuser sticks in the oil for at least 24 hours before gifting. Arrange the sticks in the glass container and your teacher will be able to enjoy the lovely aroma for months. They can flip or rotate the sticks regularly to refresh the fragrance.
A homemade reed diffuser is an affordable, natural and thoughtful gift. Your teacher is sure to appreciate the time and care you put into creating something specially for them. At Shiora, we are dedicated to providing high quality essential oils and diffuser supplies to help you craft the perfect gift.
Bath & Body Care Kit
You can also create a bath and body care kit with natural ingredients. Some ideas include:
Bath salts or bath bombs scented with essential oils

Sugar or salt body scrub with essential oils

Handmade soap or lotion bars

Essential oil rollerballs for aromatherapy on the go
Package the items in a basket or box and your teacher will have everything they need to unwind and de-stress. A homemade bath and body care kit is a spa-like gift your teacher will use again and again.
Surprise Your Teachers on Teacher's Day: Thoughtful Gestures to Brighten Their Day
Write a Heartfelt Card or Letter
A handwritten card or letter expressing your gratitude and appreciation for your teacher can mean the world to them. Share a favorite memory from their class or a lesson that has stayed with you. Teachers save these heartfelt notes and letters for years to come.
Give a Small Gift Card
If you want to give a practical gift, a gift card to their favorite coffee shop, bookstore or store where they like to shop is always appreciated. Include a personal note to make it extra special. Even a small amount on the card shows you put thought into finding something they would enjoy.
Offer to Help Out in Their Classroom
Teachers always have tasks they could use an extra set of hands for - organizing the bookshelf, cleaning the whiteboard, watering plants, etc. Offering to help out with some of these tasks, either on Teacher's Day or another day, shows you understand how much work goes into running a classroom and are willing to lend a hand. Your teacher will surely appreciate your kindness and support.
Do Something Creative
If you're artistically inclined, create something for your teacher like a poem, song, drawing or painting to give to them on Teacher's Day. Teachers love receiving heartfelt gifts from students that showcase their talents and skills. A homemade gift, no matter how simple, will be treasured for years to come.
Doing small things to show you care on Teacher's Day can make a big difference in brightening your teacher's day and letting them know their hard work and dedication does not go unnoticed. A little bit of thought and effort will be greatly appreciated by your favorite teachers.
Where to Buy the Best Gifts for Teachers in Singapore
Online Stores
With the rise of e-commerce in Singapore, buying gifts online has never been easier. Major retailers like Takashimaya, Tangs, and Robinsons all have official online stores where you can find a wide selection of gifts for teachers. Department stores are a great option if you're looking for gifts like scented candles, picture frames, stationery, or small kitchenware items.
Marketplaces
For unique, handcrafted gifts, check out local marketplaces like Etsy, Carousell, and HipVan. On Etsy, you can find many Singapore-based sellers offering personalized gifts like custom bookmarks, mugs, t-shirts and more. Carousell and HipVan are popular for home decor, fashion accessories, gadgets and other lifestyle products from independent brands. You're sure to find an original gift your teacher will appreciate.
Specialty Gift Shops
If you want to give your teacher something really memorable, visit a specialty gift shop. For book lovers, check out BooksActually or Basheer Graphic Books. Gourmands will love gifts from Providore, a gourmet food and wine retailer. For wellness and pampering, Spa Esprit and Aesop offer high-quality skincare, fragrances and other apothecary goods. These curated shops offer gifts your teacher is sure to cherish for years to come.
Handmade Marketplaces
For DIY gifts with a personal touch, buy supplies from handmade marketplaces like The Red Balloon, Kumoya, and Little Craft Shop. You'll find everything from washi tape, stamps, and craft paper to baking tools, embroidery hoops, and knitting supplies. Put together a custom gift basket or get creative with a DIY craft kit—your teacher will surely appreciate something handmade with care. Shopping at these small local businesses also supports the Singapore maker community.
Conclusion
So there you have it, 20 unique gift ideas to surprise your favorite teachers this Teacher's Day in Singapore. Any of these thoughtful gifts would be greatly appreciated by your teachers who have nurtured and guided you over the years. While a heartfelt handwritten thank you card expressing your gratitude will always be treasured, a small gift can go a long way in brightening up their day and making them feel valued. With Teacher's Day just around the corner, now is the time to start planning and putting in effort to show your teachers how much they mean to you. Make this Teacher's Day extra special for the teachers who have made a difference in your life. They deserve nothing less.
Look through SHIORA Home Fragrance to choose the right gift to include in your gift set for your teachers!