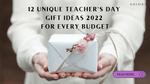 12 unique Singapore teacher's day gift ideas 2022 for every budget
Teacher's Day 2022 is not very far, and we bet you are excited about the day. Teaching is a noble profession, and people in Singapore like to celebrate this day to show appreciation. Especially the students like to show their gratitude towards their lovely teachers by celebrating in both big and small ways. Of course, a celebration seems incomplete without gifts!
Therefore, we have made a great list of unique Singapore gifts for you.
There are gifts suited to different budgets. You may be a school or college student, a student's parent, or someone whose family member/dear friend is a teacher. Make this Teacher's Day special for them by choosing from these unique gifts Singapore has to offer.
Teacher's day gift ideas for female teachers:
1) Small flower bouquets
 A flower bouquet or flowers is such a classic gift. It has a timeless appeal. What makes even a small flower bouquet such a wonderful gift? It looks gorgeous and is suitable for all occasions. 
There are hardly any female teachers who will not break into a smile on getting a bouquet. You can always pick them up from a flower shop. But we suggest you put together your flower arrangements and prepare small flower bouquets. 
This way, you will present your teachers with DIY gifts, which are always heart-touching. Flowers that are ideal for sending as Teacher's Day gifts are lilies, gerberas, carnations, daisies, orchids, sunflowers, daffodils, tulips, roses, and baby's breath.
2) Self-care kit 
You can put together a self-care kit by adding beauty/skin care products, exquisite tea/coffee jars, etc. But as a student, you are probably not aware of what suits her. Teaching can be stressful, so a self-care kit would be a soothing gift for any teacher. 
How about an aromatherapy home fragrance bundle gift set or any Shiora home fragrance bundle? This self-care kit contains four reed diffusers, and you can select different scents for each bottle. Everyone loves nature-inspired fragrances and the options of four scents make it easier for your teacher to choose the scent that she likes.
After a hard day of work, the welcoming scent of a diffuser will make your teacher feel relaxed and calm. A good scent can also cheer her up on not-so-good days. 
3) Handmade cookies
Thinking of what can be a customised Teachers Day gift in Singapore? You should order a box or a tin of handmade and customised cookies. You might not know how to bake cookies, but that's okay. Many sweets stores and bakeries in Singapore sell customised handmade cookies.
A customised cookie is a specially designed or made-to-order cookie. It can be of the shape you want and/or have a message, for instance, a handmade cookie with 'best teacher' or your teacher's name written on it! 
Also, if you want an impressionable last-minute teacher's day gift, this is it. Pick up some handmade cookies while you are on your way to school. She will love the sweet treats. 
Teacher's day gift ideas for male teachers:
1) Notebooks and stationery
When you are not very firm on getting Singapore gifts but want to give something essential to your sir, think 'journals'. No amount of notebooks and stationery is enough for any teacher. Most people will not appreciate getting a notebook as a gift as much as a teacher will.
Notebooks and stationery are off-the-shelf gifts that you can easily get in a nearby store. They are handy while planning lessons and jotting down notes. And stationeries mean a whole lot of options for you and are suited to all budgets. 
You can give a pencil case to keep their pens and pencils (maybe a gift card in it too) or a flat and blank note card set with floral designs. You can also give a sticky note pad set with funny quotes, a planner, a leather bookmark, a customized pencil set with the teacher's name on the pencils, etc.
2) Smell like hotel at home 
Wondering what this is? Well, Shiora is one of the best home fragrance Singapore-based brands. While sharing ideas for female teachers, we mentioned home fragrance bundle gift set. But home scent products are not gender-specific gifts.
Everybody loves to live in a home that smells great, with no odour from the kitchen or washroom whiffing out. A male teacher would like as much to come back into his home to a scent that would restore peace and energy to his mind, and Shiora's value bundle of best hotel-inspired scents is just what he needs. 
The fragrances in this set will make his home feel like a fancy hotel. This set contains 4x100ml scents of reed diffusers. You can choose the fragrances which are inspired by luxurious hotels like The Wilford, The Santiago, The Parisian, and the Victorian.
3) Foam roller
Is your favourite teacher your Gym or P.E. teacher? Then he deserves a fantastic teachers day present Singapore has on offer. Foam rollers are very effective in the muscle recovery process after workouts. And a P.E. teacher sure has an activity-filled schedule almost every day. 
Anyone involved in physical activities like a sport or a regular gym-goer knows how helpful a foam roller is. It is a piece of self-massage equipment known to effectively ease back pain and muscle fatigue. 
Your teacher would love to use your gift before and after a workout session. It can be a part of his warm-up or cool-down routine. A foam roller uses the self-myofascial release (SMR) technique and is ideal for anyone who exercises regularly. 
Teacher's day gift pack for all teachers:
1) Food Gift Pack
Are you thinking of lovely Singapore gifts you can give any teacher? Then a food gift pack is a popular choice. You can buy a ready-made gift pack with food items. Or you can create your food hamper, which will be a customized gift item too. 
If you have any teachers who are not of Singapore nationality, make this day worth remembering by putting in food items produced in Singapore. How about some locally made chocolates or cupcakes from the local bakery? You can put some snack items like nuts, local tea/coffee sachets, cookies, wafers, energy drinks, and energy bars. 
The sweet treats and snacks would definitely make a great care package on a budget. Just spare some moments to think about what your teachers would like. Then buy the contents keeping your budget in mind. 
2) Shiora gift pack
Short of time but not wanting to settle for less than unique gifts Singapore sells? Head straight to Shiora Teacher's Day Gift Pack without wasting any time. Shiora has the most unique products, making classy gifts for all teachers. You can buy a couple of Shiora fragrance products, put them in a gift bag, and voilà, your Shiora gift pack is ready. 
If you need help with some recommendations, do not worry; we are ready to help! Check out the Essential Oil Bundles Gift Set. You don't need time to put together a gift pack with this one. This value bundle gift set comes with four different 10 ml bottles of essential oils and a free mist diffuser. Let your teachers have an exceptional aroma-therapy experience with Shiora's Pure & Natural Essential Oil Gift Sets. 
But if you can afford a slightly higher budget, you can make a gift pack. You can include things like The Shangri-La Scent Reed Diffuser (a Shiora bestseller), a home-poured aroma oil blended in Singapore.
3) Travel size home fragrance starter kit
We know teachers are respectful figures who often forget to take time out for themselves. Most of them do not have the time to have meals on time. Therefore, things like a home fragrance starter kit would be the last on their mind. 
But what makes a Shiora travel-size gift a thrilling gift for teachers? Though they might not think of buying one for themselves, they will be grateful that their students have been thoughtful enough to gift them a therapeutic gift kit. And don't worry about the budget because this is the most affordable fragrance kit. 
Shiora is selling its 'Home Smell Good' Starter Kit Travel Size at almost half the price. So grab it before stocks run out! The kit contains three small Shiora home scent spray bottles. It will include free cards and strings that your teachers can hang in their wardrobes after spraying the scents on the card.
Personalised DIY gifts for teachers:
1) Art projects (photo book, drawings)
Nothing can be more special than personalized gifts for teachers. If you are the parent of a primary school student who's looking for a teacher's day gift, consider art projects. Your child doesn't even have to be great at the artwork. Teachers consider little kids to be like their own children. Therefore, it's the thought that counts. 
Sit your child down and hand over a drawing book to them on the weekend. Ask them to draw their teacher and/or their favourite things. You might be surprised at how great your kid can be at making a handmade gift for their teacher. If your child can, make them do a watercolour painting for their teacher. Help them write a small thank-you note at the back of the painting. 
If your child is a toddler, take a piece of blank paper, and put your child's handprint on them. Add an inspirational quote, and you'll have a special gift. Or you can include other parents, form a group, and make a photo book for the class teacher. Start with a photo of them, if you can get one. Then add a photo of each student in their class. You can add individual messages underneath each photo. It's going to be a cherishable keepsake gift.
2) Handwritten letter
A handwritten letter is your best bet when you think about a gift you can give without spending money. It is the cheapest and also the best last-minute teacher's day gift. Because a handwritten letter is a creative and personal gift, it is actually a precious gift. 
Let a teacher know they are your favourite teacher, and also mention what makes them such special teachers. A handwritten letter is the best way to show your appreciation for a teacher's efforts. Your letter can be their forever little pick-me-up on days when they are not feeling great. 
It will be a memorable gift that they will probably read even after they retire. They will treasure it over the years, so put on your thinking cap and pour your heart out!
3) Handmade gift card
A handmade gift card is a simple and sweet gift that you can make for your teacher. Make a gift card and add a note to it. You can also try making a handmade gift card holder and include a small token of appreciation like a pen, a bar of chocolate, or a single rose. 
A handmade gift card is a precious gift. You can use it to express how they have contributed to shaping your life. Remind them how grateful you are for them not giving up on you and being supportive when you have low confidence. Remember to make the card read sincere, so think warmly about your best teacher while writing a note. 
You will feel immense satisfaction when you give a handmade gift card. This is because you have invested your effort and time in it. Hence, it is a priceless gift.
Parting note
We hope you find that fantastic gift you were looking for out of all the wonderful gift ideas we have curated for you. But we would like to remind you of something. When you celebrate Teacher's Day in Singapore, the best gifts will be Singapore gifts. 
Teachers of different nationalities come to Singapore to have a successful teaching career. So they and every teacher in Singapore would be thrilled to get unique Singapore gifts from one of the top and most reliable brands, like Shiora home fragrance. 
Conclusion
Follow Shiora Instagram so that you get to know about all the latest products and discounts. It will help you buy gifts for loved ones in your budget.