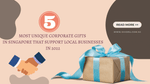 5 Most Unique Corporate Gifts in Singapore That Support Local Businesses in 2022
Giving corporate gifts to employees is a good idea because it will increase motivation and show appreciation for everyone who worked hard with the business. These gifts can help motivate your employees and help in making them loyal to the organisation. Giving such corporate gifts to clients and other stakeholders is also recommended because this can help strengthen the relationships with your clients.
Let's look at unique corporate gifts Singapore that support local businesses in 2022.
What are Corporate Gifts?
Corporate gifts are gifts that include physical items or products and non-physical items like gift cards, tickets, etc. Corporate entities or businesses give these gifts to employees, clients, vendors, prospective customers, government officials, and other company stakeholders.
The idea behind giving corporate gifts is to establish a strong relationship with the recipient. It is also a way to show appreciation for the employees or collaborations the business has worked with. This helps in brand building and can create trust and potentially impact business outcomes.
When gifting to employees, it helps to strengthen the bond between the company and the employees. The gift is a token of appreciation to the employee to thank them for the work done and to motivate them to continue to excel.
What is the meaning of Corporate Gifts?
The meaning of corporate gifts or business gifts as per dictionary is something given by a business to a customer or client without any charge. These gifts are given free of cost and also be given to employees.
What are the best Corporate Gifts for employees?
While there are many gift ideas worth considering, you are probably looking for unique and personalised gifts Singapore. Such gifts create a more significant impact. Instead of gifting ordinary diaries, pens, and electronic items, gifting home fragrance products will be a fabulous idea.
Pure and Nature Essential Oils
Essential oils are compounds that are obtained from plants. These oils have the essence of the aromas of the plant. The oils are aromatic and are used for aromatherapy to help in various conditions. Inhaling the oils can help improve one's mood, reduce stress, and improve mental health. It can also be helpful for people with headaches and sleeping problems.
Maybe you will like: Best Tips For Mood Enhancing Scents And How They Can Help You Feel Better
Shiora's pure essential oils are a great gifting choice for employees. You can choose from eight different scents such as lavender, sweet orange, and lemongrass. The scents help to keep your home smelling good. It offers a unique sensory experience that you can use as thank you gifts for colleagues in Singapore.
Skinsafe Essential Oils Roll-on
Shiora's roll-on products are made from different pure essential oils. You can use the roll-on on the neck, wrist, and behind the ears. Once applied, the scent released offers a pleasant smell. This type of essential oil is undoubtedly a unique corporate gift for 2022 corporate gifting.
The oils used are skin-safe and do not cause any allergies or skin problems. (*If you have sensitive skin, please do a patch test before use) This product can also be used as a part of aromatherapy. When the scent is inhaled, it helps to create a pleasant sensory experience. It can help manage mental health by reducing anxiety and stress levels. Employees who receive this product as a gift would enjoy using it, which makes it a great unique gift idea for corporates.
Customised Corporate Gifts in Singapore
Generally, companies buy gift products in bulk when they offer corporate gifts. The same gift is sent to all the recipients, making the gift a bit impersonal. You can customise them, so it caters to the specific needs of the recipients. How about getting customised corporate gifts Singapore in 2022 instead of ordinary corporate gifts?
Home Fragrance Starter Kit
A home fragrance starter kit is a unique gift option for employees. The starter kit would contain different types of fragrances in the form of sprays. You can use these sprays to:
Make your wardrobe smell better.

Spray on your bedsheet to get a pleasant-smelling room.

Spray directly on your clothes as the fabric fragrance.
*DO NOT spray these oils directly on your skin because these are not for skinsafe or body perfume.
Bespoke Reed Diffusers
Reed diffusers are home fragrance products that you can use in offices, homes, and stores to create a pleasant atmosphere. The product contains a diffuser oil bottle with reed sticks to place in the bottle. It extracts the scent from the oil and spreads it throughout the room.
Shiora offers bespoke reed diffusers to suit the business' needs, and any business can choose the customised scents and labels to match your company branding.
The best part of using a reed diffuser is that the fragrance lasts for many months; therefore, it is a good investment. It is a great value gift item that the recipient would love and enjoy using. These gifts would be unique personalised gifts that should be on trend in 2022.
Sustainable corporate gifts in Singapore
We live in times when sustainability has become a concern. Organisations are looking to promote sustainability, so we save resources. Sustainable gifts are a unique idea in the gift market. Businesses can demonstrate their commitments to sustainability and ecology when you gift sustainable products.
Low-maintenance Terrarium
A terrarium is an excellent sustainable corporate gift idea. Terrariums are mini-forests that are placed in glass enclosures. Because the quality terrariums are created to establish their own ecosystem, their maintenance is minimal. Watering daily like how you take care of plants is not necessary for a closed-terrarium. With the low-maintenance characteristics, your clients and employees will be happy to receive such a terrarium as a gift, especially when they love nature and plants. Take a look at this terrarium artist in Singapore on their Instagram page, and support local business!
You can get unique corporate gifts Singapore from Shiora with all the customisable gifting experiences. Whether you are looking for farewell gifts for colleagues in Singapore or want unique gifts for clients, consider Shiora's products. Our aroma reed diffusers make for great gifts that make offices and homes smell better. Contact us at hello@shiora.com to get more information about the gifting options and other products we offer for unique personalised gifts for corporates.
Conclusion
Giving out unique corporate gifts helps increase relationships between colleagues while also showing that you appreciate them for all the hard work they have done up to this point.