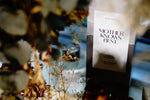 Unique Gift Ideas for Mother's Day
Happening on the 8th, Mother's Day celebration should be your first on the list for May this year. It is the best chance for you to show how much you appreciate, care for, and love your mum. 
5 creative gifting ideas this year!
1. Together is better.

Do you remember those days when your mum took you out to enjoy fun activities? Perhaps she accompanied you to an outdoor event or some crafting workshops. So, when was the last time you took her out and enjoyed doing things together? This Mother's Day may be the perfect timing for you! 
Bring your mum to a workshop and be creative together. If your mum loves nature and gardening, experiences like making a terrarium may be a great idea! If your mum loves to relax with ambient music, how about taking her to a classical music concert?
2. Customisable Diffusers ~ your Mum's favourite scent.

Emotions have a scent, and they are contagious. For example, the aroma of freshly baked cake that your mom made for the little ones, do you remember that smell? Maybe that's why it brings back memories whenever we pass by a bakery. This year, a range of fragrances can be chosen to create a customised reed diffuser specially for your mom! Reed diffuser may be the best present for beloved moms who always love to keep home clean, comfortable, and smell good. Check the optional labels with funny quotes from the website here.
3. Take care of her mental well-being.

Have you asked your mum if she's having enough rest recently? Being well both mentally and physically is necessary for a healthier every day.
Natural & pure essential oils
are created with a mixture of more than 200 compounds extracted from flowers, stems of plants, roots, seeds, barks, resins, and fruits rinds. With a variety of scents to choose from, essential oils come with many benefits! For example, the
lavender aroma
decreases blood pressure, and citrus scents like
oranges
,
lemongrass
, and
citronella
may improve cognitive performance and mood. Overall, with many benefits and ways of using it for therapeutic healing, the essential oil would be a valuable and meaningful gift for your mum.
4. Giving flowers is too common? How about plants?

A bucket of flowers brings joy to every woman, especially from a special someone. But if you want to try something different and unique, how about buying some plants with pretty pots? Undoubtedly, being immersed in nature increases happiness, but keeping plants indoors where you live is also proven to improve your mental health! 
If your mom is a busy person and has little time to care for plants, a terrarium will be another best gifting idea! Thanks to the natural ecosystem already established inside the jar, it only needs minimum care, as little as misting it once every two weeks. A variety of jars, themes, and plant combinations makes them a perfect unique gift this year.
5. A short escape with your queen!

A getaway from busy days and nights at some luxury hotels might be another great 'gift' for her. Book a short staycation to treat her to a suite with beautiful views and fantastic feasts!
We hope these ideas help to brighten your Mother's Day celebration. Both you and for her.
Conclusion
Mother's Day is a day to show your love and appreciation towards your mother for everything she has done for you since you were in her womb. A good way is to buy a personal gift for your mum.