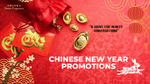 Fantastic Promotions to Look Out for This Chinese New Year 2023 in Singapore
Introduction
Hey there!
Chinese New Year is just around the corner, and that means it's time for some fantastic promotions! Whether you're looking to buy a new set of clothes, get your car serviced, or treat yourself to a new gadget, there's bound to be a great deal waiting for you.
Here at SHIORA, we're gearing up for an amazing CNY 2023 and we can't wait to celebrate with our customers. Make sure you keep an eye on our website and social media pages for all the latest news and promotion updates.
We hope you have a fantastic Chinese New Year!
What Promotions to Look Out for During Chinese New Year 2023
It's that time of the year again where the festive season is just around the corner. And what's a better way to kick off the celebrations than by knowing what promotions to lookout for during Chinese New Year 2023?
Here are some attractive deals that you can take advantage of:
• Major departmental stores like ISETAN, Takashimaya, TANGS and etc. will be giving out storewide promotions.
• Get dining vouchers worth up to $100 when you spend a minimum of $288 at participating restaurants.
• Some brands are offering exclusive discounts and free gifts when you shop with them.
• There are also numerous lucky draws with cash prizes and luxury items up for grabs.
So take your pick and have a prosperous Chinese New Year!
Dining Promotions in Singapore for Chinese New Year 2023
Looking for a delicious way to celebrate Chinese New Year 2023? Check out the dining promotions below!
The utterly sumptuous Imperial Treasure Steamboat is offering an extravagant CNY meals. Feast on an array of tantalizing dishes such as Sliced Abalone, Australian Lobster, Japanese Wagyu Beef, USA Sliced 'Kurobuta' Pork Belly and many more. There's something for everyone!
For those who prefer a taste of home, Mìmì 秘密 Restaurant is serving up a reunion feast. Highlights include Black Truffle Fried Rice, Char Siew sauce Glutinous Rice with slow-roasted unagi, and Shanghai-Style Braised Pork Belly (Dong Po Rou). Why not head down and give it a try?
And if you're in the mood for some international flavors, Shang Social is offering a delectable eight-course set menu that features authentic Chinese cuisine. Highlights include Braised Bird's Nest with Fish Maw and Shredded Abalone and Sea Cucumber. Mmm...
So what are you waiting for? mark Chinese New Year 2023 in your calendar and enjoy some of the best food Singapore has to offer!
Shopping Promotions for Chinese New Year 2023 in Singapore
Looking for some good shopping promos to kick off the Chinese New Year 2023 celebrations? Look no further! Here are some of the best deals and promotions that you can find in Singapore this year.
Most of the stores are offering great discounts and deals, but some of our favorites include:
- Up to 70% off at NTUC Fairprice
- Special discounts on selected items at Cold Storage
- Up to 57% off at Watsons
- Special discounts on selected items at Courts
- Up to 50% off on selected items at Tangs Department Store
Top 5 Gift Ideas for Chinese New Year from SHIORA
1 FOR 1 Promotion for Home Fragrances
Chinese New Year 2023 is just around the corner! Have you prepared your home for family reunion dinner yet? In addition to decorating your interiors, make a difference by adding a scent for hearty conversations.
Apply Special Code: SHIORACNY to enjoy 1 FOR 1 Promotion (NOW TILL 31/01/2023).
Aromatherapy Home Bundle Gift Set
We all want our homes to smell nice and comfortable when inviting guests. Shiora is pleased to offer you our aromatherapy home fragrances that are ideal for your space in order to help homeowners like you keep your home fresh, tidy, and welcome.
The Aromatherapy reed diffusers home bundle offers 4 all-natural smells for you to choose from. Refresh your house with the natural scents of citrus, flowers, and herbs.
Hotel Series Home Bundle Gift Set
We are all about the cozy, thus a fragrant house is a need! With SHIORA, you can make your home smell as good as it looks.
With our set of 4 reed diffusers, fill your house with new, fresh scents. To get the ideal scent for you, choose from our selection.
Whether you're seeking for a calming home fragrance or something more stimulating, we have scents for every occasion.
Value Bundle Gift Set: Essential Oils + Mist Diffuser
Do you need a special and attractive gift for your family and loved one? You can find everything you need in this bundle!
Shiora's Pure & Natural Essential Oil Gift Sets are the ideal way to indulge in aromatherapy at a reasonable cost! To enjoy enough aroma to last you for months, you'll receive 4x 10ml bottles of essential oils as well as a FREE mist diffuser.
With this 4-piece essential oil bundle, which is priced at the same as two essential oils and includes a FREE mist diffuser, fill your house with the scent of affection and pleasant memories.
Pick four distinct scents from our 8 Essential Oil Series to decorate your home today!
"Home Smell Good" Starter Kit Travel Size
We are aware of how challenging it can be to select the ideal smell for your home. We are here to help!
Shiora Home Scents Starter Kit includes three convenient spray bottles of your choice, allowing you to choose the fragrances you choose to savor. You can spray them on the complimentary cards in your room or in your wardrobe.
Pick any three scents you're interested in trying from Shiora Reed Diffusers or Essential Oils of the ones you love! You can get a free Shiora Starter Kit just by subscribing to Shiora Newsletter!!
Beauty Promotions to Line Up This Chinese New Year 2023 in Singapore
Looking for beauty products to reward yourself or your loved ones with? Look no further! Singapore is known for its wide-ranging beauty and wellness promotions that come with Chinese New Year. This year, here are some beauty promotions to look out for:
- Luxury skincare brands like La Mer, Estée Lauder and Shiseido will be offering special discounts on their products and exclusive bundle sets if you're looking for something luxurious.
- Department stores like Takashimaya, BHG and Isetan are rolling out special promotions where you can get discounts of up to 50%, as well as free gifts if you spend a certain amount.
- Pharmacies like Watsons and Guardian will also be offering discounts on makeup, skincare and haircare products.
Whether you're looking for a gift or just treating yourself to something nice after the year we've had, be sure to keep an eye out this Chinese New Year 2023 in Singapore!
Entertainment Promotions for the Lunar New Year in Singapore
This Chinese New Year, why not check out some of the entertainment promotions in Singapore? From movie tickets to theme park entrance fees, there are plenty of opportunities for you to save some money and enjoy yourself.
Whether you're looking for a place to watch your favorite movies or theme parks that offer discounts, you'll be able to find something that fits your budget this Chinese New Year. Just be sure to check the expiry date of the promotion before purchasing.
For instance, some cinemas may be offering discounted movie tickets on selected screenings. And if theme parks are more your thing, look out for discounted ticket prices or even freebies such as souvenirs or food vouchers. It's also a great time to grab discounts on concerts and live events! Just remember to keep a lookout online and through various social media platforms as these promotions don't always last long - so take advantage of them while they last!
Online Promotions to Shop During the Chinese New Year Celebrations 2023
If you want to enjoy some great bargains during the Chinese New Year 2023 celebrations, look out for online promotions. Many stores are offering discounts on their products such as apparel, jewelry, and home decor. You can also find incredible prices on electronics products and appliances.
Online shopping can be a great way to save money on gifts and goodies for the celebrations. Many stores are offering free shipping options and special discounts. You can search for specific deals or browse through the offerings of each store. Be sure to check out coupon sites as well for even more savings.
It's also worth noting that many e-commerce sites have special Chinese New Year sales where they offer discounts that are valid only during the festive period. This is a great opportunity to save some serious money while still getting all of your shopping done in time for the festivities!
Conclusion
So, what are you waiting for? Mark the dates for a fantastic celebration and check out the amazing deals that various brands and stores have in store for you! Get set to welcome the Year of Rabbit in style!