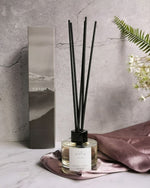 How to Make Your House Smell Good?
Aromatherapy Reed Diffusers/ Essential Oils
 ~Lavender: The smell of lavender has long been used as one of the most popular room fragrances because of the many medical benefits it brings. Best to put it in your bedroom to induce you into a deeper sleep.
~Sandalwood Peppermint: Not only ease car sickness or nausea, sandalwood and peppermint scents can also keep away most biting insects. If you keep seeing ants, mosquitoes, or fruit flies, try putting a Sandalwood Peppermint reed diffuser near that area. (Essential oil works just as fine, too!)
~Lemongrass: A popular aroma that is often used in any therapeutic spas. The powerful citrus scent of Shiora's lemongrass can be used as a natural insect repellent.
~Cedarwood: 'Love at first sight' scent from our cedarwood reed diffuser and essential oil is best to put in your home to create a warm and welcoming feeling as soon as you open the door.
~Citronella: The intense lemon-like scent and citrus smell of citronella may be the best choice to put where you want a stronger scent to counter unfavourable smells, such as in bathrooms. Citronella also works well to energise your days.
Customised Reed Diffusers Especially for…
~your Mum: Want something special to show your gratitude to mum? Choose her favourite scents with a label of your choice and a message card! Because #MotherKnowsBest . (Special offer is available until 8th of May, 2022)
~your (Boy/Girl)Friend / Wife/ Husband: "You see! I Told You So, right?" Sounds familiar? Yes, get one for her/him. 
Choices of scents available: Relaxing Lemongrass/ Forestry Cedarwood/ Garden Citronella/ Refreshing Peppermint/ Sweet Orange
Luxury-Inspired Reed Diffusers
May Shiora's hotel-inspired reed diffusers transform your home into a fancy space. Place it at an entrance for these high-class scents to welcome everyone and anyone that comes home.
The Shangri-La: light notes of bergamot, rose, and lavender, along with the woody notes of sandalwood.
The Sheraton: notes of lily rose and musk will fill your nose with the natural, fresh, and earthy aroma that elevates your senses.
The Mandarin: fresh notes of freesia, Osmanthus, and grapefruit mixed into a unique blend.
The Dunhill: a distinctively clean, smooth, and light citrus aroma refreshes your mind.
The Westin: a natural and unique combination of black pepper, ginger, and coriander with a lingering strong aroma.
The Park Hyatt: citronella scent with bergamot, lemon, orange, eucalyptus, cedarwood, pine, rosemary, clary sage, tea tree, frankincense, and sandalwood.
The Continental: a combination of sweet and fresh citrus, jasmine, and gardenia, tuberose is bursting with fragrance scent.
The Venetian: a World-class hotel blend made of grapefruit, produce a fresh and sweet citrusy aroma, energizing and uplifting to your mind.
Conclusion
Follow us on Shiora Instagram  to check out more of our high-quality reed diffusers. 
Subscribe to Shiora newsletter and enjoy a free reed diffuser starter kit.