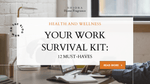 Your Work Survival Kit: 12 Must-Haves and Essential Oil Blends for Focus, Motivation, and Stress Relief
Do you ever find yourself feeling drained and lacking motivation at work? It's easy to fall into a slump during the work day and if you don't have something to look forward to, it can make the day seem even longer. But fear not, there are lots of ways to boost your motivation and make your working hours more enjoyable, like creating a work survival kit with all your go-to items that will help you stay focused and have a more productive workday.
At SHIORA, we understand the importance of nourishing our minds when the going gets tough. This is why we've put together our very own work survival kit filled with essential oil blends that will help you stay on task and offer stress relief when needed. We've carefully curated twelve of our favorite aromatherapy offerings that range from invigorating scents to calming ones, so that you can get your groove back and make the most out of your day!
Brain Power Essential Oil Blend: Increase Focus and Concentration
Your work survival kit wouldn't be complete without a Brain Power blend! This mix of oils works to help increase focus and concentration, helping you feel energized and inspired. Perfect for those days when you need an extra boost of motivation, it helps reduce mental fatigue so you can keep your productivity levels up.
This blend contains essential oils such as rosemary and lemongrass, which work together to enhance mental clarity and alertness. Rosemary is said to improve cognitive performance, while lemongrass essential oil is a natural mood enhancer. When diffused or applied topically, inhaling the aroma from Brain Power can help keep one focused and alert.
If you want to add some more complexity (and effectiveness!) to your Self Care regimen, try this blend during your work day for improved concentration, focus, creativity and better mental clarity. It will go a long way towards easing stress and making any day-to-day tasks more enjoyable!
Motivation Essential Oil Blend: Boost Drive and Determination
It can be difficult at times to stay motivated and move ahead with your tasks. To help you find your drive and determination in times of need, try out the Motivation Essential Oil Blend. This blend uses three different oils to create an optimal environment for getting things done:
Geranium: lifts spirits and boosts focus

Sweet Orange: helps stimulate creativity

Bergamot: increases mental clarity
With this blend, you'll be able to stay focused on your goal and not get distracted by all the little things that can pull us off track. Plus, the invigorating aroma will help uplift your mood so you can take on tasks with a positive attitude. Use this blend before or during work time to give yourself a boost of energy and help clear your head of unnecessary stress.
Stress Away Roll-On: Instant Calming Relief
When the workday has you feeling overwhelmed and stressed, it may be time to reach for your Stress Away Roll-On. This essential oil blend is specifically designed to reduce anxiety, tension and emotional stress, allowing you to find the ultimate calm in yourself.
Using a unique combination of nine essential oils (bergamot, geranium, sweet marjoram leaf, lavender, sweet orange peel, patchouli leaf, ylang ylang flower, peppermint aerial part, and frankincense resin) blended with nourishing fractionated coconut oil as a carrier oil. This blend will instantly bring a sense of relief and peace whether you need it after a hard day of work or for yoga or meditation time.
The Stress Away Roll-On is easy to use – simply roll onto wrists or temples for instant calming relief any time of the day. The scent is light and refreshing – perfect for carrying in your pocket or purse to use throughout the day. Additionally, its convenient design makes it perfect for traveling too!
Essential Oil Diffuser: Fill Your Space With Soothing Scents
If you're dealing with stress and distractions while you work at home, an essential oil diffuser can make a huge difference in your productivity. Whether it's a desktop diffuser or a larger one for an office, the scent of essential oils can calm and relax your senses, helping to clear your mind so that you can stay focused on the task at hand.
Think about it – when you have an essential oil diffuser going, you're filling your workspace or home office with aromas that will keep you centered and relaxed. With SHIORA's therapeutic blends of essential oils, it's never been easier to bring a sense of balance, focus, and clarity into your workspace. Here are some of our favorite essential oil blends for the workplace:
With these four essential oil blends from SHIORA in your work survival kit, you'll be able to improve the atmosphere around your desk by filling it with soothing smells that will help you focus better.
Focus Mist Spray Bottle: Quick Spritz for Alertness
Sometimes you need to stay focused, and that's where the Focus Mist Spray Bottle comes in! Just a quick spritz of this blend of invigorating essential oils can help you break through any mental blocks and get back on track.
It's easy to use: just add 10 drops of the Focus blend to an 8oz water spray bottle, shake well and spritz when needed! You'll be feeling more focused almost instantly.
Some of the essential oils in the Focus blend can include:
Peppermint — boosts alertness and focus

Rosemary — improves alertness and helps sharpen memory

Lemon — uplifting aroma helps revive energy

Lavender — soothes feelings of stress or tension
Not only will these oils help increase alertness and focus, but their amazing scents will also make your workspace much more pleasant. So grab your Focus Mist Spray Bottle for your work survival kit today and see what a difference it can make in how you work! SHIORA also offers a mini scent spray bottle filed with diffuser blends.
Essential Oil Inhalers: Portable Burst of Centering Energy
For those on-the-go moments you're feeling distracted and unfocused, essential oil inhalers are your secret weapon! They are designed to be small enough to fit in your pocket and provide a quick, accessible burst of centering energy — perfect for the office. Most have wicks inside that contain essential oils which you can inhale through the top of the inhaler, providing a much needed burst of motivation or mental clarity.
At SHIORA, our range of essential oil inhalers come in a variety of scents and are all made from natural ingredients. Some of our favorite scents are energizing citronella, calming lavender and refreshing eucalyptus — all with key benefits for focus, motivation, stress relief and well-being. Plus, if you ever feel like changing it up, simply open up the cap and switch it out with one of SHIORA's amazing essential oil blends!
So don't forget to add an essential oil inhaler to your work survival kit! They're small enough to carry with you everywhere and powerful enough to help keep you feeling focused and motivated on those days when it's just too easy to zone out.
Reed Diffusers to brighten up your mood at workplace
When you're feeling bogged down and need a mood uplift, a reed diffuser is the perfect way to freshen up your home or office. Reed diffusers are an effortless way to fill any space with a pleasant scent by diffusion, without having to light up any candles. All you'll need is some reeds and your favorite essential oil blends!
At SHIORA, we have a range of essential oil blends—all specially formulated to help you stay focused and productive while reducing stress. For example, 'Stress Relief' blend can consist of Eucalyptus Oil, Lemongrass Oil, Peppermint Oil, Bergamot Oil, Grapefruit Oil and Juniper Berry Oil—perfect for when you feel like you can't keep up with the workload.
Even if you're already feeling focused and motivated in your workday, you can simply choose any fragrant blend that brings you joy in the middle of a long day. Our Sumo Orange blend reed diffuser made from Orange Essential Oil, Bergamot Essential Oil and Patchouli Essential Oil will surely bring about joy. In general, soft scents like lavender or rosemary are great for calming down and mindful moments throughout your day.
So when choosing items for your work survival kit or sprucing up your workplace with some aromatherapy creations, don't forget about reed diffusers!
Conclusion
No matter how difficult your work life may be at times, having the right tools and essential oil blends at your disposal will make any situation more bearable and manageable. With the right pieces in your work survival kit, you can focus, stay motivated and decrease your stress levels, no matter the situation. Keep your SHIORA essential oil blends close by each day and you'll be ready to tackle any work challenge with ease.