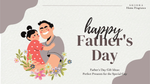 Father's Day Gift Ideas: Perfect Presents for the Special Guy
Looking to buy something special for your dad on Father's Day? It's that time of year again and you want to make sure you give him something he will truly appreciate. After all, fathers deserve recognition for the hard work, dedication, and love they provide.
We know that finding a gift for your dad can be difficult – especially when it's a day set aside just for him to feel appreciated! That's why we put together this list of unique Father's Day gift ideas. From classic options like fragrances and ties, to more modern choices such as experience gifts and home spa sets, each of these presents is sure to be cherished by the special guy in your life.
SHIORA Home Fragrance has an incredible collection of aromatherapy scents that the special father in your life is bound to love. With thoughtful ingredients carefully curated with him in mind, there is sure to be a scent that will bring him relaxation and sensory enjoyment. Explore our Father's Day collection today and discover our wide range of perfect presents for the man who deserves it all before it's too late!
Ideas for a Classic Father's Day Gift: Clothing & Accessories
If you're looking for a classic Father's Day gift, then clothing and accessories are an excellent choice. Whether it's something stylish or practical, dads always appreciate a good wardrobe overhaul—plus, it never hurts to have an excuse to stock up on some new pieces.
For the stylish dad with enviable fashion sense, you can't go wrong with a few handsome shirts, or some eye-catching ties. For the practical father who likes to keep it simple, timeless pieces like plain tees or chinos will get plenty of mileage. And don't forget about accessories like a nice watch or a pair of sunglasses to complete the look!
Maybe your dad's been hankering after his very own whiskey stone set? Or how about a pocket square in his favourite colour? Whatever style your dad favours, you'll find something that perfectly suits him in this list of Father's Day gift ideas.
Gift for the Outdoorsy Dad: Adventure and Sports Gifts
Is your dad the outdoorsy type, looking for his next adventure? Then adventure and sports gifts are the perfect way to show your appreciation for his adventurous spirit! You can go small (like a new pair of binoculars or hiking boots) or big (like a new kayak or camping trip)!
One gift that he's sure to love is a new fishing rod. Whether he's an experienced fisherman or just getting started, he'll love the challenge and the thrill of the hunt. If you want to up the ante even further, get him a gift card for some guided deep sea fishing!
Other great gifts include camping gear like a water filter, solar charger, tent, easy-to-carry cooler, hammock, and more. If your dad likes to cycle, get him some cycling accessories like sunglasses, padded shorts, bike lights and a helmet.
These thoughtful mail-order gifts will keep him motivated to explore the outdoors without needing to leave the house. With these gifts in hand he'll be ready for his next outdoor adventure—whenever it may come!
Present Ideas for Dads Who Like to Relax: Aromatherapy and Home Fragrance Gifts
Is your dad a fan of aromatherapy? Does he like to relax with a little bit of ambience? Then look no further than SHIORA Home Fragrance for the perfect gift! Home fragrance gifts are the perfect way to show your dad you appreciate him. From calming essential oils, to handcrafted reed diffusers and more, SHIORA makes sure their product ingredients are thoughtfully selected with love in mind.
Here are some of our top products that would make the ideal present for Father's Day:
Essential Oils: our essential oils are made from all-natural ingredients and carefully blended to give optimum effects on mood and mental health. With their calming and therapeutic aroma, your dad will have a unique experience when using them.

Handcrafted Reed Diffusers: For dads who want an even more immersive aromatherapy experience, SHIORA offers diffusers that disperse essential oil molecules into the air quickly and efficiently.
These gifts prove to be perfect presents for dads who want to indulge in relaxation on Father's Day!
Creative Gift Fit for a Chef Dad: Kitchen Tools and Accessories
Many dads are quite the chef. If your father is one of the cooking aficionados, surprise him with some kitchen tools and accessories he loves to have in the kitchen. Some great ideas include:
A set of sharp knives

A digital kitchen scale

An fancy upgraded spatula

An induction cooktop

A slow cooker with adjustable settings

An apron with a unique design
For those looking to add an extra special something, SHIORA's fragrances can perfectly compliment your father's kitchen experience. Fragrances like White Tea Candle can help create the relaxing atmosphere your dad deserves while he cooks up an amazing meal. With SHIORA's natural fragrances, you can make your dad smile on Father's day!
Unique Gifts to Show Appreciation: Personalised Gifts With Meaning
If you are looking for a special something that will truly make your dad feel appreciated, try getting something personalised. A personalised gift says that you have taken the time to think about what he likes and find something that is special just for him. From SHIORA Home Fragrance, you can find a range of home fragrances that make great Father's Day gifts.
Personalised Aromatherapy Essential Oils
Our aromatherapy essential oils come in a range of unique scents, from calming lavender to invigorating eucalyptus. And with our personalisation option, you can add an inscription to the label (contact us to customize), making it a gift from the heart. Whether it's a heartfelt message or an inside joke—whatever words you decide on will make your dad feel special and loved on Father's Day and beyond!
Mini Home Diffuser Mist Spray
Sometimes it's nice to give your dad something practical too, and our mini home diffuser mist spray is just the perfect gift. Show him how much he means to you by a mini spray mist that is convenient to carry around, so he'll know it was made especially for him. It's an elegant way to say "I love you" and will look great on his mantlepiece too!
For meaningful gifts this Father's Day that show off how much you care about your dad, look no further than SHIORA Home Fragrance!
Unusual Presents Dad Never Knew He Needed: Technology and Gadget Gifts
You may think that dad has all the technology he needs, but there's always something that Dad has secretly been wanting to try. He might be hesitant to buy a fancy gadget, so get him something he didn't know he needed and make him smile on Father's Day!
Activity-tracking Smartwatch
If your dad is an active guy, why don't you get him an activity-tracking Smartwatch? It's a great way for Dad to stay connected with calls and messages while tracking his steps, calories burned and heart rate throughout the day. And it looks really cool too!
Wireless Earbuds
Maybe your Dad loves listening to music—get him some wireless earbuds! Not only do they look cool but they also provide crystal-clear sound quality. Plus, they feature a noise-cancelling technology so he can use them in any environment.
Smart Home Hub Kit
Surprise Dad with a smart home hub kit. With this kit, you can get everything from lights and door locks to window shades and security cameras that you can all control from one app on your phone. Plus, no more worries about keys—you can access it all with facial recognition software.
Relaxation in a SHIORA Home Fragrance Gift Set
Is your dad a fan of rest and relaxation? Then why not get him the perfect present this Father's Day with a SHIORA Home Fragrance gift set? Containing carefully thought-out aromatherapy creations, it's sure to be the perfect gift for any dad who wants some well-deserved rest and relaxation.
SHIORA Home Fragrance products are specifically designed to bring joy and sensory pleasures. We select our ingredients carefully, striving to bring you the purest ingredients to provide you with a superior experience. All of our products are made without harmful additives, so you don't have to worry about any negative effects they may have on your body. Not only that, but SHIORA Home Fragrance gifts make thoughtful gifts for dads with their unique fragrances and calming effects.
You can choose these as a gift set:
Pamper your dad this Father's Day with a SHIORA Home Fragrance gift set. He'll be able to enjoy his sanctuary knowing that he has all the tools he needs for an incredibly relaxing experience!
Conclusion
Whether you're shopping for the adventurous dad, the sentimental dad, the busy dad, or the dad who has it all, there are plenty of gift ideas to show your appreciation and love on Father's Day. From outdoor gadgets to travel essentials, apparel, books and luxury items, there's something for everyone. The key is to think outside the box, give something practical that he'll use, and get creative.
Consider SHIORA Home Fragrance's wide range of aromatherapy products, full of natural and pure ingredients - the perfect way to help dad relax and rebirth after a long year of hard work and dedication. Let SHIORA Home Fragrance help you be the favourite person for this Father's Day!