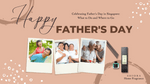 Celebrating Father's Day in Singapore: What to Do and Where to Go
Father's Day is one of the most special days of the year — and it's almost here! If you want to express your appreciation for the most important man in your life, why not do something extra special this year? Here in Singapore, you can find a range of ways to celebrate Dad in style.
From activities to gifts and more, there are plenty of options for you to show him just how much you love him. Whether you're looking for something intimate or just want some ideas on what to give him, we have everything you need right here. With these unique Father's Day ideas, you'll be able to make your dad feel extra special and give him a day full of surprises!
How to Make Your Dad Happy on Father's Day
Father's Day is the perfect day to show your dad how much you appreciate all he does for you! There are many ways to celebrate your dad on this special day, from planning an activity with the whole family to buying your dad a thoughtful gift. Here are some ideas for making your dad happy on Father's Day in Singapore.
Activities
Go for a hike: get some fresh air and enjoy the great outdoors by taking a leisurely stroll around MacRitchie Reservoir or climbing Mount Faber together.

Have a picnic: pack some food and drinks, find a spot at the East Coast Park or Botanic Gardens, and have a laid back day of relaxation.

Take him out: make reservations at his favorite restaurant and treat him to an evening of delicious food and fun conversations.

Go bowling: gather up the family to have a game of bowling at Kallang Bowl or The Cathay!
Gifts
Designer shoes: get him a pair of classic leather shoes from Zara or Charles & Keith that he can wear for any occasion.

Grooming gift set: give your dad something special with designer colognes or skincare products from brands like Kiehl's, Clinique, Biotherm and Estee Lauder.

A watch: find a timeless timepiece that he can use for years to come—plus it doesn't hurt that watches are always fashionable!

Gift cards: if all else fails, go with classic gift cards from Sephora or Amazon so your dad can pick out something that he truly loves.
No matter what you give him, with love, he will surely appreciate!
Things to Do on Father's Day: Activities for Dads in Singapore
It's Father's Day, let's show dad how much you care! Whether your dad loves to get out and explore or prefers to stay in and relax; there are plenty of activities to appeal to his interests. Here are some ideas for things you can do with your dad on this special day that he will sure to enjoy:
Take a trip down memory lane
Why not visit one of the places that reminds you both of a happy time? Have a walk down memory lane and create new family memories as well.
Gift dad a luxurious experience at one of Singapore's top spas. It'll be an enjoyable day of relaxation and pampering while he gets to take some time off the busy schedule.
Take an outdoor adventure with your father. From kayaking, sailing trips, nature trails and more, there's plenty of ways to bond with him while enjoying fresh air and sunshine!
Where to Go on Father's Day: Places to Visit With Dad
If you're looking for a fun way to spend Father's Day with your Dad, Singapore has some great places to visit. For example, if Dad loves nature and the outdoors, then you could check out the Singapore Botanic Gardens or MacRitchie Reservoir. Here, you can take a stroll, enjoy the lush greenery and spot birds and butterflies.
If Dad is an adventure enthusiast, then why not plan a kayaking trip at Lower Seletar Reservoir? Or if he's into roller skating and inline skating, then Kallang Riverside Park is perfect for some family time.
Or perhaps your Dad enjoys art? Then you could take him to the National Gallery Singapore and explore the world of art together; it'll be an unforgettable experience!
No matter what activities you pick, spending quality time with Dad will make his day special.
Restaurants to Treat Dad: Delicious Father's Day Meals
Treating Dad to a meal is always a great idea for Father's Day, and Singapore has plenty of options for that. From classic Singaporean favorites to international cuisine, there's something for every dad. Here are some restaurants where you can treat your dad to a delicious Father's Day meal:
Straits Chinese Restaurant: With its classic colonial decor, Straits Chinese Restaurant serves up some of the best traditional Peranakan dishes – perfect for dads who love their local flavors!

Le Petit Syrah: If your dad loves wine, Le Petit Syrah is the perfect place to take him. They specialize in wine pairing with French-Japanese fusion food; their steaks and desserts are particularly popular.

Spring Court Restaurant: Serving up traditional Cantonese fare since 1950, Spring Court is a favorite among locals and visitors alike for its authentic dishes like pork ribs, roasted duck and steamed grouper.

Brooklyn Bar & Grill: For dads who'd appreciate a big slab of succulent steak, Brooklyn Bar & Grill will not disappoint – they have one of the most extensive menus when it comes to premium steak cuts!

Blackwood Barbecue Gastropub: Enjoy hearty local favorites with an American barbecue twist at Blackwood Barbecue Gastropub – their signature char siew karakuni is sure to please any dad!

Park Bench Deli: If your dad loves burgers, look no further than Park Bench Deli – they have juicy burgers stacked high with all the fixings that you get to choose yourself!
Relax with dad at home
Spending quality time with dad is a great way to show him your love and appreciation this Father's Day. So, why not relax and stay at home instead?
There are plenty of ways to make your dad's special day enjoyable even inside the comfort of your own home. You can try cozy activities such as:
Cooking his favorite meal together - whip up a delicious dinner for the both of you to enjoy!

Binge-watching his favorite TV shows or movies together – it doesn't get more romantic than cuddling up under a blanket and watching some classic films.

Invite some family members over for an evening of games or look back at old photos – who knows, you might come across some funny stories that you never knew before!
And if you want to take it a step further, give dad the gift he truly deserves this Father's Day like SHIORA natural aromatherapy creations. Our collections range from Pure Essential Oils, Oil Blends, and Natural Reed Diffusers so that your dad can feel relaxed and connect with nature in every way.
Gift Ideas for Dad: Thoughtful Presents He Will Appreciate
If you're looking for a meaningful and memorable gift to give dad on Father's Day, you should seriously consider something that he can enjoy throughout the year like natural aromatherapy scents.
At SHIORA, we understand that gifts should be as special and unique as dad himself. That's why we create our range of natural and pure aromatherapy creations for sensory enjoyment and relaxation, because we know what is truly important to him.
Our products are made with thoughtfully curated ingredients that dad will love:
Essential oils sourced from sustainable sources

Natural plant extracts

Uniquely blended reed diffuser fragrances

Cruelty free
SHIORA is an excellent way to make dad feel special this Father's Day—it's the perfect gift that will provide dad with full sensory satisfaction for a long time.
DIY Gifts for Father's Day: Homemade Presents From the Heart
DIY gifts are a great option for Father's Day—if you want to show your dad that you put extra effort into his gift, then a homemade present is the perfect way to go. Whether it's a physical object or some kind of craft, a handmade Father's Day gift always conveys that extra dose of warmth and affection.
One thing you could do is make an aromatherapy gift set with SHIORA products, like essential oils, essential oil roll-ons, and reed diffusers. These are presents that your father can use to relax and unwind after a long day, and he'll be able to appreciate the care that went into making it:
Start by choosing your gift set. This could include any combination of SHIORA products depending on what dad likes best—maybe he enjoys skinsafe roll-ons or calming essential oils? However you decide to create your kit, make sure it's tailored specifically for him.

Put together an arrangement: pack the different gifts in boxes or containers with decorative paper, ribbons or other trinkets for an extra special touch. You can even add personalized labels with messages like "From the heart" or "Happy Father's Day" so he knows who made it for him!

Give him your handmade present: wrap it up in pretty wrapping paper and add one last note expressing how much you love him! He'll be sure to feel appreciated when he receives such an amazing present from you this Father's Day.
Your dad is sure to love any handmade present that comes from the heart—so create something special this Father's Day and make his day unforgettable!
Conclusion
With that, we hope that you and your dad can make the most of this very special and special day. Whether you plan out an entire day, several days, or just a few hours— what matters is that you show your appreciation, support, and love for him. Don't forget, you can also give him a special gift to make him feel extra special! At SHIORA, we believe that fathers and fathers-to-be deserve the ultimate aromatherapy experience. You can find something from our range of natural and pure aromatherapy creations that can bring sensory enjoyment and relaxation. Give your dad the gift of relaxation and repose to make his day extraordinary and special.