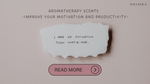 Aromatherapy scents that help improve your motivation and productivity
Certain scents can alter our mood and enhance our productivity when we feel a lack of motivation. One of the most critical parts of aromatherapy is the use of essential oils. There are different essential oils carrying different fragrances. And each smell has certain benefits. You can use a Shiora reed diffuser too as part of your aromatherapy. When used at the workplace, some smells can help employees stay energetic and focused. This article will tell you how scents affect your productivity and the different scents you can use in your office or home workspace/study to stay motivated.
How does smell affect productivity?
The right smell can help us focus and increase our productivity which we need for achievement. Our productivity largely depends on our mood. When we are in a good mood, our work quality becomes better. If we work in an unhappy state, we are more likely to take multiple breaks. And a pleasant fragrance can make our mood better by almost 40%. 
Sometimes a smell makes us feel nostalgic about something. For example, a scent can remind you of your grandparent's home, which you loved visiting as a child. This is because when you first inhaled that smell, you had a great experience. Thus that smell will always make you feel better. Our brain primarily associates a bouquet with an event, which in turn affects our response.
Our olfactory is connected to the brain and thus is a part of how we learn and emote. Hypothalamus is that part of our brain which sends signals to different body parts. Therefore, when we inhale a scent, the brain can use it for bodily changes. Also, the amygdala, the brain's emotion center works in tandem with the hypothalamus to process a smell. 
Aromatherapy Scents to improve your motivation and stay focused:
Research has proved that certain smells can improve our mood, help us stay focused, and increase our motivation. The top 5 mood-boosting scents that can boost our productivity too are:
1) Citrus
Citrus smells are light yet bright enough to boost our attention. These smells are great for students too, who have to stay awake till late at night to study. Try the following citrus products to stay alert:
Citronella oil

 - This oil has a scent that is very similar to lemon. Citronella is a fragrant grass, and its name means 'lemon balm'. There are two origins of citronella - Ceylon and Java. Shiora's 

Citronella Pure Essential Oil

 

is of the highest quality as it has been prepared from Citronella from Java. 
The combination of its floral and grassy smell helps remove any negativity you feel. It can help your mind and body relax by reducing anxiety, sadness, and stress. Use this invigorating Shiora oil to beat fatigue and feel more energetic.
Sweet orange oil

 - Try using Shiora's 

Sweet orange pure essential oil

 if you find yourself becoming easily anxious at work. Many people have their worries keeping them distracted from the work at hand. If you are one of them, this is the essential oil for you. 
The smell of sweet orange can help ease your anxiety and focus on your responsibilities. When you use Shiora's sweet orange oil for aromatherapy, you will find that it has a warm and consoling fragrance. It will help you feel at ease.
Sumo Orange

 - A reed diffuser is one of the best ways of getting the benefits of aromatherapy. You can use the Shiora 

Sumo Orange reed diffuser

, which has been made using citrus oil too. Sumo orange has its origin in Brazil and like other oranges, its smell is very uplifting and delightful.
2) Bergamot 
Studies have shown bergamot to be helping with stress and relaxation. Bergamot has the strength to aid in stabilizing mood fluctuations. It can lift your mood, shake off sluggishness and make you able to think more clearly. The smell of bergamot helps you to practice mindfulness and makes you feel grounded. Shiora's Bergamot Pure Essential Oil has a combination of citrus, spicy, and floral scents which will help you with your confidence and concentration.
3) Peppermint
Peppermint's minty fragrance makes it one of the aptest essential oil for getting an energy boost and increasing focus. The smell is great for stimulating the mind. It is known to be able to increase concentration levels by around 28%. Peppermint smell aids memory and confidence. Try it out by getting Shiora's Peppermint Pure Essential Oil. Let its cooling and refreshing fragrance help you restore a perfect work-life balance. It is probably the best scent for working for you.
4) Lavender
Lavender has a sweet smell that can recharge your brain. Allow Shiora's Lavender Pure Essential Oil to rejuvenate your mind after a hard day of work. You will be able to return to work the next day feeling refreshed. Lavender helps to improve focus by relaxing and calming your mind. The smell of fragrance soothes the nerves and helps alleviate headaches too. It is one of the best essential oils for anxiety.
5) Lemon
A lemon essential oil is made from the leaves of a lemon plant. Its smell can help you get better sleep or make your mood better. The scent of lemon can give that sudden burst of energy when we most need it. You can use lemongrass oil, too, when you can't find a lemon essential oil. 
Shiora's lemongrass essential oil can help you ease your anxiety and make you feel relaxed. It helps with a larger attention span, possibly making it the best scent for studying. Put about six drops of lemon or lemongrass essential oil in your essential oil diffuser to reap its benefits.
How to start your day with positive energy
Make it a habit to start every day with a bit of self-care, and meditation is one way of doing that. Use the power of aromatherapy to kickstart your day positively. Put a few drops of your favourite Shiora pure essential oil in your aroma diffuser and inhale the smell. See how your day goes. Practice self-care using scents when you feel worried that the day is going to be stressful. You can use essential oil as perfume or just sniff it before starting the day's work. Shiora home fragrance understands how aromatherapy can be a great way to start your day and help you throughout it. Thus, all essential oils are pure and made with 100% natural products. 
Conclusion
If you have never tried aromatherapy before, consider gifting yourself Shiora's Essential Oil Value Bundle Gift Set, which comes with a free mist diffuser!
Subscribe to Shiora newsletter to get notifications for our weekly newsletter and also enjoy a free reed diffuser starter kit.