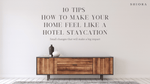 10 Tips how to make your home feel like a hotel staycation
Everyone loves to travel on a vacation. But with many events happening in Singapore like the Dota TI Singapore, you may not feel like leaving the country for a vacation. In such a situation, it would be a great idea to have a staycation instead.
You can stay at home and enjoy a staycation in Singapore 2022, so you can watch various events online. Make your staycation special by making your home feel like hotel. This will allow you to enjoy an awesome time with your family.
Here are some very handy tips that you can follow to make your home feel like a hotel staycation.
Tips to make your home feel like a hotel
Fill with hotel inspired scents
Hotel rooms have distinctive scents. The hotel scent is pleasant and can uplift your mood. You would have noticed that each hotel brand has a specific fragrance associated with it. You can be inspired by these scents while buying fragrances.
A quality brand like Shiora offers hotel inspired scents through their reed diffuser products. These products are trendy and make your home smell like hotel. It will put you in the right mood for the staycation that will feel like staying in a hotel.

Quality linens for the night
When you stay at a top hotel like the Shangri-La, one of the key attractions is the comfortable quality linen in the hotel rooms. You can get the best quality linen for your home to make it resemble a boutique hotel.
You can get the quality bedspreads, pillow covers, and other linen made from linen, or to also consider getting new sofa covers to spruce up the entire home. To top it up, add in a Shangrilla Scented Reed Diffuser into the mix to make your home comfortable. 
Reduce the clutter
When you stay at a hotel for a vacation, the room is clean and free of clutter. Make your home look like a hotel by maintaining the same level of cleanliness. Spend some time to do a thorough cleaning of the home by sorting out things you need and don't.
Get rid of all that you don't need, so your home looks clean. Arrange all things neatly, so the home looks visually good. This will make your home resemble a hotel.
Small decorative touches for the room
There are many small decorative touches you can add to your room to make it look like a hotel. For example, using the right color palette will make your room look attractive. Prefer a neutral color like creamy white, beige, or blue. Use linen of these colors. You can also consider repainting your home in these colors.
Something as simple as keeping a water glass, reed diffuser, and carafe by the bedside can add a different touch. Lighting is another small thing that can make your room stand out. Choose the light based on the effect you want to create. Example: Get a bright table lamp for the desk.
Neutral tones like a hotel room
The designs you use in your home should not be too flashy. They need to be neutral in tone, so the atmosphere resembles that of a hotel room. Furthermore, using the best fragrances adds a scent design element to enhance the aesthetic effect.
You can get Shiora reed diffusers that have a classy and neutral design. The diffusers not only emit a pleasant fragrance, but also look good and suit any room design. When placed in your home, it would resemble a hotel room.
Don't forget the mirrors
One of the distinctive things in a hotel is the mirror in the room. A hotel room has a large mirror that looks attractive. The best hotels would have mirrors that are decorative and aesthetically appealing.
There are different types of decorative mirror designs available in the market. These mirrors are distinctive in appearance and will make you feel like you are staying in a hotel.
Choose suitable sizes for the furniture
While choosing furniture, sizing plays an important role. Whatever furniture you add, ensure it is the correct size according to the space of your home. For example, a sofa should be ideally 90 inches by 38 inches. An armchair can be 35 inches by 35 inches in dimension. A queen size bed would be 80 inches by 60 inches.
Small details matter – glassware
Small details matter when you want to make your home look like a hotel. The best hotels would have top quality glassware. Get new glassware of the best quality from a top brand. There are specific glassware that hotels would use.
Get this glassware and arrange them on the table. They would add to the overall effect making your home resemble a hotel.
Add some green or flowers
Being eco-friendly is the trend today. Hotels are adding greenery everywhere as you can see from their lobbies, including in hotel rooms. You can also make your home as eco-friendly as modern hotels by adding a touch of green.
Include pots with plants in your home. A simpler solution is to get fresh flowers and put them in an attractive looking vase. Change the flowers each day by getting a new flower. Your home will look and smell fresh.
Finish up with blackout curtains
Now that you have done everything to make your home look like a hotel, round it up with blackout curtains. A hotel room is distinctive because of the blackout curtains that look good and keep out too shiny light.
It blocks out light, so you can sleep comfortably without being disturbed by outside light. Getting a good night's sleep will make you feel refreshed, so you can enjoy your staycation. Choose from different types of blackout curtains to jazz up your room.
Conclusion
While it is a good choice to go on a vacation since the border is open for travelling, planning on some rest days to attend exciting events that will be happening in Singapore 2022 is a good idea too.
Use Hotel Inspired Scent to make your home feel like a hotel through the sensory experience, or choose a reed diffuser from Shiora Travel Collection such as Wilford Travel Scent Reed Diffuser or Duchess Travel Scent Reed Diffuser and experience the stay as if you are travelling overseas and spending quality time in the luxury hotels.