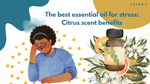 The best essential oil for stress: citrus scent benefits
Essential oils are plant extracts that offer a fragrant smell. Apart from their fragrance, these oils can offer various benefits. They are used in aromatherapy, where their fragrance can lead to physical and mental health benefits.
One of the key benefits these oils offer is in reducing stress. Citrus scents obtained from oils made from citrus fruits are known for helping reduce stress and stay calm. There have been studies that have shown that citrus scents can prevent stress.
In this guide, we will look at various essential oils made from citrus fruits and examine their benefits.
Citrus essential oil benefits
Citrus essential oil is made from the parts of citrus fruits, usually the rind. Various citrus fruits like orange, grapefruit, and lemon are used to prepare citrus essential oils. These oils are among the popular essential oils used for various purposes. The various benefits citrus oil offers to explain why it is so popular.
Citrus oils have a tangy aroma that is very refreshing. The scent can be uplifting and can help in uplifting the mood.
The most significant benefit of citrus essential oil is on mental health. It has proven benefits in helping reduce anxiety and stress. Inhaling the scent can help in relaxing and provides a calming effect.
Citrus essential oils also have an energizing effect. They can boost a person's emotional and physical energy, helping in improved productivity.
Citrus essential oil spray has an antibacterial effect. Spraying the oil in the air can help prevent airborne infections. This would be very helpful during the flu season.
When citrus scents are enhanced, they have an impact on the body's immunity. It can help stimulate the immune system, thereby boosting immunity.
It is believed that citrus oils can help in detoxification by removing toxins from the cells.
Another interesting use is the oil can be sprayed on sticky surfaces to clean them well.
Citrus essential oil benefits for skin
Apart from all of the benefits mentioned above, there are benefits even for the skin. Citrus is one of the natural products that is used in skincare. However, it must be noted here that citrus essential oil must not be directly applied to the skin. It is too strong and may cause irritation. Diluting with a carrier oil is recommended before use. In fact, we recommend that all essential oils should be diluted before applying to the skin.
The skin benefits of citrus essential oils are:
Lemon oil is a citrus oil that is antiseptic in property, as well as astringent. It can help in detoxification.
The essential oil of citrus can be used to cleanse the skin, moisturize it, and also tone it.
Citrus is known for being rich in vitamin C and antioxidants. This property ensures that essential oils can help fight the effect of ageing. It can also help to brighten the skin.
Thanks to its stress-reducing ability, the oil can be used as a massage oil. It is beneficial for facial massage and can produce a calming effect.
Citrus oil has also been seen to be helpful in managing hyperpigmentation due to sun exposure. It reduces discolouration and can help remove damaged skin cells.
What are the benefits of sweet orange essential oil?
Sweet orange essential oil is one of the most popular citrus essential oils, and it is known to offer many benefits:
Apart from its use in reducing anxiety, it can also help improve sleep quality.
It can be helpful in improving hair health thanks to its antioxidant effects.
It can help prevent acne thanks to its antibacterial properties when used on the skin.
Some studies have shown that it can be anti-cancerous thanks to its ability to fight free radicals.
Another valuable application of sweet orange essential oil is bug repellent. Many insects are repelled by the smell of this oil.
Grapefruit aroma benefits
Grapefruit essential oil, when used in aromatherapy, can help balance mood and reduce anxiety. It is also helpful in reducing stress and can lower blood pressure. The oil is good for managing acne. According to some studies, massaged on the stomach can aid in weight loss.
Bergamot essential oil benefits
Bergamot essential oil is a natural essential oil extracted from the rind of the bergamot orange fruit. The oil offers many benefits that include:
It is used in aromatherapy for a soothing effect.
The oil can help decrease skin with acne.
It is believed to soften hair and can help manage scalp irritation.
The oil is believed to have analgesic properties and can reduce pain.
*Do take note to dilute any normal essential oils before applying on the skin.
Lemongrass vs lemon oil scent benefits
Lemon oil comes from the lemon tree. On the other hand, Lemongrass is a grass belonging to the citrus family. Both the oils are known for being antibacterial. They are helpful in improving immunity. They offer skin benefits, particular for oily skin.
Lemon oil, like all citrus oils, can help in stress reduction. Lemongrass oil can also help in relaxing the muscles. It is also used as hair oil and to make conditioners.
Citronella essential oil benefits
Citronella essential oil is known for its pain-relieving and anti-inflammatory effects. The oil can help manage muscle pain and spasms. It relaxes the mind when used in aromatherapy. It is helpful in improving hair health. The oil also acts as a bug repellent.
Mandarin orange oil benefits
Mandarin orange oil produces a relaxing effect like all citrus oils. It also has a sedative effect and can promote good sleep. The oil is known for being anti-nausea in property and can help manage nausea symptoms. It is known for its skin benefits and can prevent skin ageing. It is also used to manage dyspepsia.
Conclusion
Now that you know all about citrus essential oils, it is time to start using them to get their benefits. The best essential oil products can be bought from Shiora, a leading home fragrance product seller. You can visit Shiora's website to learn more about the different citrus essential oils!
You may also like: 6 Reasons Why You Should Use Bergamot Essential Oil