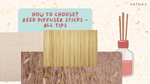 How to choose the best reed diffuser reed sticks in Singapore?
If you want your home to smell great, you should consider buying a reed diffuser. You could always use scented candles, incense sticks, sprays, and other products. But the benefits offered by using a reed diffuser stick make it a great product.
We will tell you all about reed diffuser Singapore products and how to choose the best product for your needs in this blog, read on!
What are reed diffuser sticks and how does reed stick work?
Reed diffuser sticks are fragrance products that are used to allow a scent or fragrance to diffuse or spread throughout a room. Incense sticks are reed diffuser sticks alternative, but they need to be lit. Also, incense sticks burn off within 15 to 30 minutes. Reed diffuser sticks would last for 2 to 4 months.
The reed diffuser stick is available along with a bottle, in which essential oils are added. You can add oils of your choice and place the stick in the bottle. The sticks work like straws by sucking in the oil from the bottle. Once the oil enters the stick, the aroma is diffused into the air creating a fragrant scent.
You may like: How To Make My Diffuser Last Longer?
The oil evaporates on reaching the top of the stick and releases the scent. This happens slowly ensuring that reed diffusers are the most durable and effective aromatic product. It can take a couple of months for the oil to completely exhaust. After that, the oil can be refilled.
The diffuser reeds have clear channels that allow the essential oil to be smoothly absorbed into the stick. Once absorbed, capillary action makes the oil move up to the top of the stick. Once they reach the top of the stick, evaporation converts the oil into vapour, which is then released into the air.
The reeds can be turned over frequently to prevent the clogging of oil. Each time it is turned over, it releases a burst of fragrance that would be pleasant. Around 4 to 6 sticks can be used and can last for 2 to 3 months before they need to be replaced.
What are reed diffuser sticks made of?
Generally, reed sticks are made from rattan wood. However, they can also be made from other materials, including bamboo skewers. The following explains the materials from which reed diffuser sticks are made:
1. Fibre reed sticks: The reed sticks can be made from fibre. The reeds can be made using a combination of fibre and cotton. With the improvement of enviromental protection, especially the eco-friendly fiber material is used for fiber sticks. Pores for fiber sticks evenly distributed throughout the sticks and all sticks can have entirely the same effect.
Compared with rattan sticks, fiber rattan sticks also have a better water absorption, stronger water storage and volatile stability.
2. Porex reed sticks: This is an e-reed stick made using technology. They can be more expensive.
3. Rattan reed sticks: Rattan wood is made from palms that are valuable forest products. The wood is used for various purposes, including making reed sticks.
4. Bamboo reed sticks: Reed sticks can also be made using bamboo. It is a convenient material and readily available. However, it has been seen that bamboo sticks are not as efficient as rattan sticks. They have lesser channels and nodes in the bamboo, making them less efficient.
5. Chopsticks: Interestingly, even chopsticks can be used as reed sticks. While they do work, you cannot expect them to work as well as rattan sticks. If you run out of reed sticks, you can use them temporarily. They are a good option to use for a school project.
What is the best reed stick for stronger scent?
The best reed stick for a more potent scent is Shiora's fiber reed stick. The stick is manufactured reeds that are designed specifically for oil wicking and scent dispersal, which is known to be very efficient. It is a low-cost product, works well, and most important, is durable. The sticks can last many months and are a great product.
How do I choose a diffuser stick?
Now that you know all about diffuser sticks, the question is how to choose one. To help you, we have a guide that tells you which stick to choose and how to go about it
Go through the following tips that explain how you can choose the best diffuser stick:
The first thing to decide is the material used to make the reed diffuser stick. As discussed above, there are various options available. But fibre is the best among them all because of the aromatic effect it gives out. So, look for a product that uses reed sticks made from fibre.
The next thing is to decide where you want to use this product. You can use this product anywhere in your house, whether in the bedroom, kitchen, living room, and also in the home office. Since no flame is used to light the stick, it is a safe product. However, avoid keeping it near a source of heat or flame.
In general, you will need around 4 to 6 diffuser sticks to be placed in the bottle to get the best results. You can increase the number of sticks for larger rooms to get the desired effect.
The most important thing is to buy sticks from a reputed brand. You can get many products in the market, but the quality is the key.
Where to buy reed diffuser sticks?
You can buy reed diffuser sticks from any store or online. When you look at the different products available in the market, it is clear that fibre reed sticks are the best. Shiora home fragrance fibre stick products are considered the best in the market. The product quality and the range of essential oils available make it the best.
When you buy Shiora reed diffuser sticks, you are assured of a product that has quality and durability. The sticks are available in black and white colours; white reed diffuser sticks are suitable for a more feminine touch to your room design. The channels in the a combination of fibre and cotton, making them the best option to absorb oil and diffuse the aroma. They are available in sizes of 20 cm (short fibre reed sticks) and 24 cm (long fibre reed sticks).
Conclusion
Follow us on Shiora Instagram  to check out our latest products and offers.
Subscribe to Shiora newsletter and enjoy a free reed diffuser starter kit.