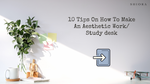 10 tips on how to make an aesthetic work/study desk
A work or study desk is where you spend many hours each day. Whether you are working from home or office work, your study desk is where you do all your work. If you want to improve your performance at work/study, then one of the things you can do is to spruce up your home office desk/ study desk.
Here are exciting desk décor ideas to help you make your desk look aesthetically appealing. These tips will make your work desk and surrounding area look better. It will put you in a better mood at work; an aesthetic work/study desk will allow you to improve your productivity and efficiency.
Follow our practical tips, and you will quickly know how to organize your desk at home or office in a pleasant way.
Pick a theme based on your mood and season
You can decorate your work/study desk based on any theme of your choice. You can also decide to decorate by keeping the seasonal changes in mind. For example, keep branches from a tree in the spring in a glass of water. Get some floral pattern designs for the pillow on your chair.
During the winter, change the décor of your computer desk to match the cold season. For example, you can add décor elements related to Christmas, so they remind you of the upcoming festival.
Apart from seasonal décor, you can also use a theme based on your mood. For example, if you are energized and looking to up your productivity, add red colour for the décor items. Light blue suits well if you want to be calm and relaxed.
Use trendy stationeries and office supplies
Improve the aesthetics of your work area by using trendy stationery and office supply products. Here are some trends in stationery you need to be aware of:
Green stationery is the trend today. These are products made from recycled paper or parts that are biodegradable. They are environment-friendly products that you must consider using.
Personalized stationery is popular today. Instead of buying mass-made products, get stationery specially made for you. The stationery would have your name and other branding elements printed on them.
Technology-driven products are trending. These include products like LCD clocks with lamps, multi-function pens with a USB stick, etc.
Add some green
Greenery is the best way to improve the aesthetic appearance of your work/study desk. It is straightforward to achieve. Add some pots or flower vases on your writing desk or next to it. The plants provide you with oxygen, and the greenery can help make you feel more relaxed.
Here are some greenery options you can consider for your work/study desk area:
The African violet is a colourful and attractive plant. Make sure you keep it near a window for it needs light to grow.
Aloe is another good plant you can keep near your desk. Keep it near the window.
The lucky bamboo or Dracaena sanderiana is the perfect plant to keep on your work desk. It looks attractive, needs less light, doesn't need soil, and also brings you luck.
The snake plant, especially its dwarf versions, is ideal for a work desk. It is a slow-growing plant that does not need too much care.
Keeping a terrarium is a good idea too. It is low-maintenance greenery to add to your every day.
Put some scented items for a better mood
You need to be in your best mood while working/studying at your desk. That will ensure your efficiency increases, and you can get the best results. A great idea to elevate your mood is to place some scented items on your desk. The fragrant scent enhances the ambience of your work/study area and puts you in a better mood to work.
Aromatherapy is a benefit you can get by using scented items. Some aromas can offer health benefits. They can help improve your mental health too. Here are some options to consider while getting scented items:
Scented candles: These candles made of wax have scented oils inside them. When the candle is lit, the scent from the candle spreads throughout the room. These candles are available in different colours, scents, and designs. The only downside is the candle flame needs to be lit, and a bit of wax can spill over.
Reed diffuser: A reed diffuser would come with a bottle containing fragrant essential oils. It has reed sticks that need to be placed in the bottle. The reed sticks absorb the oils and release the aroma. There is no flame needed or electricity. The sticks release scent slowly, and it can last for many months.
Essential oil diffuser: This can be an electric diffuser, which needs electric power to work. It helps to spread the fragrant scent quickly.
Choosing from different scents can help you uplift your mood. Lavender can help bring stress levels, making you relax. Jasmine can make you feel alert. Rosemary helps you be calm. Citrus scents like lemon can energize you and give you the boost needed to put in more effort. Vanilla is a great scent to boost your mood and make you happy.
Add hanging décor on an empty wall
If you have an empty wall next to you, decorate it, so it looks better. This improves the ambience of your work area. The enhanced ambience will put you in a better mood to study or work.
You can get ornaments and décor items of different types. Hang them on an empty wall to make it look aesthetically pleasing. You can consider adding wall hangings made from different materials. A dream catcher with lights is an excellent hanging décor to add to the wall.
Organize your desk regularly
When your desk is clean and well organized, you will be able to work/study better. Here are some ideas to help you organize your desk better so it looks good:
Sort out all that you have on your desk. Separate the items you don't need and either discard them or keep them elsewhere.
Do a thorough cleaning of the desk to get rid of dust and grime. Use a surface cleaner product for a thorough cleaning.
Arrange your desk neatly, placing things in an orderly fashion. This prevents visual clutter and ensures things are available when needed.
Keep the items you need at hand nearby so that you can access them quickly.
Ensure wires for computers are encased so they don't look messy.
Arrange papers properly. If required, use two bins to separate papers related to pending work and completed work.
Categorize by items
Arrange your work desk more efficiently by categorising all that you have on it. Categorize them based on items keeping your workflow in mind. A good way to do this is by keeping your computer and devices on the left. Leave space in the middle to work. Keep stationery items and supplies to the right. This is a good way to keep your work desk well organized.
Add a bulletin board to the desk
A bulletin board, a whiteboard, or even both can be included with your work desk. This is a great option since it allows you to keep things you don't have space for on the table. For example, papers you don't need on the work desk can be pinned to the board.
You can also add décor items like greeting cards you have received, your favourite photos, etc., on the board. The board can be used to display a calendar. You can also stick to-do lists on the board. If you have a whiteboard, you can use it to plan your work for the day/week.
Spruce up the space with lighting
Ideally, your work or study desk must be near a source of natural light, such as a large window. This gives you sufficient light, so it is easy on your eyes. In case this is not possible, use lighting not only to illuminate the space but also to make it look attractive.
You can add a table lamp to provide lighting for the desk (especially at night). Choose an attractively designed table lamp to enhance the overall aesthetics. You can even consider options like colour lights or lights of different designs.
Personalize the desk
Personalize your desk by including things that are close to you. A simple thing like adding a framed family photo would make your desk cosy. Personalized and attractive mouse pads or writing pads are other good options to consider for your desk.
If you have a favourite inspirational quote, display it near your desk so you keep seeing it frequently. Personalize the desk by including items in your favourite colours and designs.
Conclusion
You can start today by following the tips given above.
A trendy self-care routine to add in to enhance your mood while working is by getting the best home fragrance Singapore products. You can get Shiora's reed diffusers to enhance the ambience of your work area. Visit Shiora's website to get more information about the different scented items available, so you can decide which one suits your needs the best.
You may also like: 10 Tips How To Organize Your Desk For The Best Performance