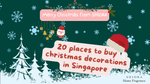 20 Places to Buy Christmas Decorations in Singapore in 2022

It's that time of year again! Time to deck the halls (and just about every other surface in your home) with all things Christmas. If you're looking for some festive inspiration, we've got you covered. Below, we've rounded up 20 of the best places to buy Christmas decorations in Singapore.
So whether you're looking for a set of artificial trees or some simple tinsel garlands, we've got you covered. Happy shopping!
Shopping at Popular Department Stores in Singapore
The most popular places to buy Christmas decorations in Singapore are the department stores. They usually have a wide range of decorations at different price points to cater to everyone.
Some of the most popular department stores for Christmas decorations are Takashimaya, Robinsons, and Isetan. They usually have a wide range of ornaments, lights, and trees to choose from. They also tend to offer promotions and discounts during the festive season, so it's a good time to stock up on your decorations.
Looking for Local Handcrafted Decorations
There's no need to go far for unique Christmas decorations this year! Check out these 20 places that sell local, handcrafted decorations.
Many of these shops also offer custom-made decorations, so you can get something truly unique for your home. If you're looking for something traditional, or something with a bit of a Singaporean flair, you'll find it here.
So don't wait any longer - start your Christmas shopping today!
Where to Buy Christmas Trees and Ornaments
There are plenty of places to get your Christmas fix in Singapore. Here are 20 of our favorites:
1. Mustafa Center
Mustafa Centre is the shopping mall on Syed Alwi Road in the cultural district of Little India, Mustafa Centre retail hub attracting many shoppers with its wide variety of products and services.


2. The Christmas Tree Shop
What is Christmas without a massive Christmas tree? This holiday season, bring some festive brightness into your house with a beautiful fir from The Christmas Tree Singapore.
3. Daiso
On a tight budget? Then there's Daiso, where you can acquire all your Christmas trinkets at a low price. The assortment isn't very high-quality, but the low prices make Daiso a good option!
4. Tokyu Hands

Tokyu Hands began as a DIY store. What could be more satisfying than creating your own DIY-Christmas-theme-decoration? If you're a craftsman yourself, Tokyu Hands is your best pick!!
5. Takashimaya
Takashimaya Shopping Centre, housed within a remarkable architectural landmark in the of Orchard Road, is the shopping destination for shoppers, with over 130 specialized businesses, including a Christmas-themed shop!!
6. Isetan Scotts
Isetan, a Japanese department store with many branches throughout Singapore, is particularly popular in the city-state due to its large selection, reasonable prices, and excellent service.
7. Robinsons

Robinsons' online marketplace expands on the historic department store founded in 1858. Get in contact with your favorite decorations without leaving the house for the best Singapore online shopping experience!!
8. Ngee Ann City
Ngee Ann City is a high-end retail landmark on Orchard Road in Singapore. The upscale, twin-towered shopping mall with luxury apparel labels, a department store, and restaurants will make your journey to buy for Christmas decorations worthwhile.
9. Tangs
Tangs is a terrific place to do Christmas shopping - and not only because it plays Christmas music on loop. Its retail decorations will immediately transport you to a winter paradise filled with home furnishings, stunning wreaths, and Asian-inspired ornaments that will set your home in a festive atmosphere.
10. Metro
So Metro isn't the nicest department store in town, but don't discount it just yet. Choose gold decorations with majestic-looking ornaments or frosted sophistication with lace baubles and glass angels. If you prefer the traditional route, there will be holly boughs and everything red and green for you to adorn the halls.
11. Cold Storage
Cold Storage has grown from a little cold store to a local icon, delivering quality and rare items from across the world to Singaporeans. The supermarket isn't only for food; you can also buy Christmas trees there.
12. Giant
Dairy Farm Group owns Giant. Dairy Farm Group is a renowned pan-Asian retailer, with well-known and beloved brands like Giant, 7-Eleven, Jasons, Market Place, Guardian, and Cold Storage. If you reside in Singapore, chances are you are familiar with Dairy Farm Group's products, and they will make your home attractive with Christmas ornaments!
13. Star Vista


The Star Vista, strategically located within Vista Exchange and directly connected to the Buona Vista MRT interchange station, is an urban retail refuge nestled within a wonderfully integrated and natural setting.
14. Clementi Mall
The Clementi Mall is a six-story retail complex with a prominent position in Clementi town and access to integrated transportation services such as the Clementi MRT station and bus interchange. Clementi Mall will make your Christmas shopping an ease !
15. West Coast Plaza


West Coast Plaza, originally known as Ginza Plaza, is a mixed retail and residential complex located on Singapore's West Coast. The retail building is a three-story structure with roughly 160,000 square feet of shop space.
16. JCube
JCube has a wide range of shopping, dining, leisure, and educational options. It houses Singapore's only Olympic-size ice rink and the first IMAX theatre in the suburbs, with a 460-seat gallery, and is located opposite Jurong East MRT station and bus interchange.
17. White Sands
White Sands Shopping Mall, usually known simply as White Sands, is a 5-story shopping mall in Singapore's Pasir Ris district. It is near the Pasir Ris MRT station and the Pasir Ris Bus Interchange and has a basement with retail outlets as well as two extra stories of basement parking.
18. Parkway Parade
Parkway Parade is a retail mall in Marine Parade, Singapore. It features a 17-story office tower and a seven-story commercial center with a basement that debuted in March 1984.
19. Bedok Mall


Bedok Mall is a suburban shopping mall in Bedok, Singapore, and is part of a mixed development that includes retail and residential space, as well as a bus interchange. It was Bedok's first big retail mall to open.
20. Ikea
You don't need an excuse to visit Ikea's two locations, but with Christmas approaching, the Swedish furniture retailer will be stocked with delights from its Winter collection to help you decorate your house. Consider little Christmas trees, fairy lights, themed pillows, candle displays, wreaths, and hanging star mobiles for your table.
Quirky Christmas Decorations You Can Find Online in Singapore
Feeling creative and looking for something unique to spruce up your home this Christmas? We've got the perfect places for you! Online websites like Amazon, Etsy, Shopee, and Taobao offer a treasure trove of unique decorations from around the world. You can get your hands on all kinds of festive florals, trees, knick-knacks, fairy lights and more.
Carrying everything from minimalistic modern decorations to traditional European styles, these online stores have a range of options for you to choose from. So if you're looking for something truly one-of-a-kind, it won't take you long to find something that matches your taste.
And even better, some stores free shipping on orders over a certain amount or offer discounts on bulk purchases. Be sure to keep an eye out for those deals when shopping at these online retailers.
Specialty Shops in Singapore That Carry Christmas Decorations
Are you looking for something special and unique? There are a few specialty stores in Singapore that offer handcrafted, one-of-a-kind Christmas decorations.
If you're crafty and want to get your hands dirty, then the Christmas Creatives Store should be your go-to spot. Here, you can find supplies and materials to make your own festive decorations. They also run classes on different themes such as wreath making, centerpiece designs, DIY ornaments and much more. And if you don't have the time or inclination to make something from scratch, they sell ready-made items too.
If you're looking for something traditional and classic, then head on over to The Victorian Trading Co., which offers a wide range of traditionally themed decorations such as nativity sets, Santa Claus cutouts or even a life-size Santa! You can find everything from tree decorations to stockings here.
And if all else fails, there's always the online option where you can shop for the best of both—readymade or handmade—Christmas decorations from the convenience of your own home!
Where to Get Unique Gifts for Christmas in Singapore
What if you're looking for something special to make your Christmas gift-giving extra special? Well, you've still got plenty of options. Head to Chinatown and visit The Madras or Apiary where you'll find unique handcrafted gifts. If you're looking for something more modern and stylish, Antiques of the Orient is the place to go.
What about a special scent to greet guests? SHIORA offers aromatherapy items to meet clients in a warm and friendly environment. Shiora will enhance your Christmas event with its wide range of products such as the latest reed diffusers collection and essential oils, as well as the currently running 12 12 promotion 2022!!
Other great places for unique Christmas gift ideas in Singapore include Mark & Spencer, where you can get classic items like teapots and mugs that are sure to make perfect presents. For truly weird and wonderful Christmas presents, why not check out TANGS Department Store or Robinsons? They have all sorts of weird and wonderful items that are sure to surprise even the pickiest of friends or family members.
Conclusion
So, if you're looking to add a unique touch to your Christmas decor this year, or are simply stumped on what gift to get your colleagues or loved ones, make sure to check out these 20 places in Singapore, if you're looking for a specific list of gifts, you can check out our Christmas gift ideas list!