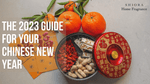 The 2023 Guide For Your Chinese New Year
Happy New Year to you!
The 15th day of Chinese New Year is a significant day for many reasons. It's the day when the god of wealth, also known as Caishen, is said to visit homes and businesses to bestow his good graces. It's also a time for family gatherings and feasting. In this article, we'll give you a rundown of all the traditions and facts associated with the 15th day of Chinese New Year. Let's get started!
What Is the 15th Day of Chinese New Year 2023?
The fifteenth day of Chinese New Year is celebrated as the Lantern Festival. Families will gather to eat reunion dinners and enjoy the lantern displays.
This day is also considered as a lucky day to marry. Couples who marry on this day are said to have a happy and lasting marriage. The fifteenth day is also a day for children to ask their parents for anything they want. Parents usually grant their children's wishes on this day.
What Is the Chinese New Year 2023 Animal?
This year is the Rabbit Year. Rabbits are considered good luck and wealth symbols in Chinese culture; they are also considered the luckiest of the twelve animals, so those born in the year of the rabbit can expect a prosperous year.
Rabbits are also associated with several other positive traits, including calm, diligence and peaceful. So if you're looking to celebrate the Chinese New Year in 2023, make sure to embrace these qualities!
The Year of Rabbit 2023 – Meaning and Symbolism
The Year of the Rabbit is a time to celebrate new beginnings, family and friends, and good fortune. And in the spirit of the holiday, we wanted to share some fun facts and traditions with you.
The rabbit is the fourth animal in the Chinese zodiac and is associated with qualities like gentleness, kindness, and prosperity. In Feng Shui, the rabbit is said to be a sign of good luck and wealth- which is why it's often featured in New Year's celebrations. This year, why not try some of these traditions in your own home?
Some tips to get you started:
-Decorate your home with items that are symbolic of good fortune.
-Display images of the rabbit or other lucky symbols like four-leaf clovers or horseshoes
-Use reed diffusers such as sandalwood scent and citronella smell, or use essential oils like lavender scent or lemongrass oil
-Prepare a delicious feast for your family and friends
Interesting Facts About Chinese New Year
It's always fun to find out about different Chinese New Year traditions, but did you know there are some really interesting facts about the holiday too?
For starter, February 15th is the day of the Lantern Festival, which marks the end of the two-week long celebration. It's also known as 'Yuan Xiao Jie', which means 'to have a night of reunion'!
Another fascinating fact is that each year in China is represented by an animal from the Chinese zodiac. This year happens to be the Year of Rabbit, with Dragon and Snake right behind it. 2024 will be the Year of Dragon, followed by Snake in 2025.
What's even cooler is that while each Chinese zodiac year lasts exactly one lunar cycle (12 months), tradition dictates that Chinese New Year festivities start on New Year's Eve and last until the 15th day of the new year. This means that instead of just one day to celebrate, we get 15 days for it!
Typical Traditions and Celebrations During Lunar New Year
The 15th day of Lunar New Year is the day of Lantern Festival and this is when you will see most of the Chinese New Year celebrations coming to life. It's a time of family gathering, lantern procession, feasting and other entertainment activities.
Traditionally, many people would go out to the streets with their lanterns and enjoy the warm night celebrating. Nowadays, you can usually find performances such as lion dances, dragon dances and acrobatic shows in parks or malls.
On top of that, you may be lucky enough to find a fireworks display on this special night too! For those who are looking for something more interesting to do besides appreciating beautiful lights, they can also take part in a few activities such as eating yuanxiao (glutinous rice balls) or solving lantern riddles.
It's important to remember that these traditions have been passed down through generations so it's only right that we respect them by observing these traditions during Lunar New Year and throughout the whole year.
Must Have Foods During Chinese New Year 2023
Food is one of the most important elements of any celebration, and that's especially true when it comes to the 15th day of Chinese New Year 2023. You'll want to make sure you have all the ingredients in place for these traditional dishes.
The list is long, but the basics are: Fish, Dumplings, Noodles, Rice cake, Whole chickens and Spring rolls. There are special meanings behind each item -- fish for a surplus of wealth; noodles for longevity; dumplings for family reunion; rice cakes as a sign of progress; Whole chicken for luck and wholeness; and Spring rolls for wealth.
You can always get creative here and come up with your own interpretations – just make sure it's something that will uplift your spirits! The Chinese New Year feast is made even better with lots of color and crunch from the salads. For example, pickled vegetables are great with fish dishes, and shredded carrot salad is a must when it comes to dumplings. Add some sesame oil or chili oil to take things up a notch!
When is Chinese New Year 2023 Singapore calendar
Chinese New Year 2023 falls on January 22th and the festivities go on for 15 days. On the 15th day of Chinese New Year, also known as the Lantern Festival, various traditions are observed in Singapore. The traditional practice involves displaying auspicious words of good fortune and well-wishing on red paper lanterns and floating them on a river or other body of water.
Chinese New Year 2023 is an excellent opportunity to connect with family and celebrate togetherness. Families typically gather around a table to eat special dishes that represent good luck and prosperity. The most famous dish served during Chinese New Year is the Yu Sheng salad, a classic Chinese dish loaded with symbolic ingredients such as fish, cucumber and carrots.
Families will then go out together to visit local temples in order to give thanks for the blessings of the previous year and to pray for peace in the upcoming year. So why not take this chance to join in the festive spirit? Pick up your lanterns, deck yourselves out in traditional red attire, and get ready to celebrate Chinese New Year 2023!
Conclusion
In short, the 15th day of Chinese New Year is an important day to remember and celebrate. There are many traditions and activities that take place on this day, such as decorating houses and eating special food. There are also many interesting facts about this day, such as the fact that it is the Year of the Rabbit in Chinese astrology, If you're wondering what gifts to consider giving to your loved ones, check out our post on Chinese New Year gift sets!
Get yours today with Shiora limited time CNY promotion and make your home smell good for hearty conversations.