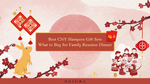 Best CNY Hampers Gift Sets What to Buy for Family Reunion Dinner: Chinese New Year 2023 in Singapore
The Chinese New Year Singapore 2023 will fall on 22 January, Sunday. If you are buying presents for your loved ones, now is the best time to start looking. This article compiles a list of the best hamper sets you can gift to your family for this Chinese New Year.
Japanese Handkerchief with Pure Essential Oil
Tenugui, or Japanese handkerchief, is very popular in Japan. Since the Heian period, Japanese people have been carrying tenugui as a part of their everyday apparel.
Made from cotton, the Japanese handkerchief comes in attractive patterns and colours. The aspect of tenugui which stands out the most is its versatility.
With the advancement in technology, the market has many Japanese handkerchiefs with sleek prints and designs. These stylistic elements cater to a wide variety of customers across genders and ages.
Japanese handkerchiefs can be used as – a cleaning or wiping cloth, an environmental-friendly wrapper, a small tablecloth, a clothing accessory and a decorative item.
During Chinese New Year reunion with your family, you can combine a collection of exotic Japanese Handkerchiefs with an equally unique set of pure essential oil Singapore.
This combination makes for great Chinese new year gifts Singapore. Depending on who you want to give the gift to, select from a wide variety of essential oils.
To be safe, a combination of different notes will work wonders. For example, you can create a set of floral, spicy and earthy notes. Try sandalwood, sweet orange and lavender.
To use this gift properly, add a few drops of essential oil to the Japanese handkerchief. The fabric will absorb the oil and smell aromatic. A scented handkerchief looks good on clothes. You can also smell your handkerchief anytime you want to feel refreshed.
Lobby Lounge at Shangri-La Singapore
For a family reunion dinner in Singapore, look no further than the Lobby Lounge at the 5-star hotel Shangri-La Singapore. Fine dining at this lounge and bar is truly a luxury gift.
Simply because it is an opulent destination does not mean the makers of Lobby Lounge have forgotten their roots. The lounge collaborates with the local street hawkers, cooking local delicacies with the finest ingredients.
Some of the best dishes to try here are - Hainanese Chicken Rice, Hainanese Beef Noodle, Roti Prata, Fish Soup and Bak Kut Teh. Other items include - Katong Laksa, Ayam Buah Keluak, Beef Rendang, Bak Chor Mee, Prawn Noodle Soup and Ikan Assam Pedas.
If you want a family reunion breakfast or lunch instead of dinner, Lobby Lounge offers two great meal plans:
- The first plan includes an authentic Singaporean breakfast buffet. You can feast on local delicacies while admiring the elegant interior design of the lounge. The breakfast fare includes dishes like – carrot cake, The Coconut Club's nesi lamak, Spingleaf Prata Place's roti prata, Hainanese pudding, dry wanton mee and kaya toast with soft-boiled eggs.
- The second plan includes a 3-tiered afternoon tea experience. Along with tea, you will also be served savory treats, pastries and an assortment of Nyonya kueh.
In addition to this, the tea set comes with scones in Pandan and Gula Melaka flavours. Other local fusion treats include Durian Dome and Coconut Kaya Tart.
Japanese Teapot Set
Elegant, useful and tiny, Japanese teapot sets are popular around the globe. Even if they are never used for drinking tea, the teacups look so cute that they make for an attractive decorative item.
To gift someone a Japanese teapot set during the Chinese New Year, ensure that you get your set from reliable teapot dealers. If it is not genuine, your set would suffer in quality and spoil the impact of your gift.
Most Japanese teapot sets are made with either porcelain materials or clay (also called stoneware). Porcelain teapots do not absorb the tea's aroma, making them suitable for all kinds of tea.
Clay teapots on the other hand have iron which reacts chemically with the tannins in tea. Depending on the clay material and the type of tea this can lead to some interesting flavours. 
Japanese teapots come in 4 different shapes. The main difference lies in the design of the handle. Based on this, you have four teapot types – Side-handled teapot (Yokode Kyusu), Back-handled teapot (Ushirode Kyusu), Top-handled teapot (Dobin) and No handle teapot (Hohin).
When it comes to teacups, they can be made with glass, clay or porcelain. Porcelain cups are more common in Japan but clay teacups add an authentic old school charm. Glass cups can be used to serve cold beverages like matcha iced tea.
Luxury Hotel Scent Home Fragrance
A luxurious indulgence does not require you to check into a 5 star hotel. You can simulate the same experience using a luxury scent. Better yet, hotel scents are an excellent present to give to others.
There are many luxury hotel scents in the market but some are clearly better than others. Try Shiora's range of hotel lobby scents. The range offers a signature scent for every unique hotel scent essential oil available at Shiora.
- The SANTIAGO Signature Scent Reed Diffuser is inspired by the aromatics used in the hotel and its chain. With notes of musk and lily, this mixture of earthy, natural and fresh notes will revitalize your senses. It is also an affordable hotel scent.
- The DUCHESS Signature Scent Reed Diffuser pays homage to the ageless legacy of the Dunhill House by fusing its signature smell with modern aromatics. Woody fragrances like neroli and bergamot comprise the top notes. While its heart bears a spicy twist with cardamom, lavender and black pepper scents. The Dunhill hotel is also an affordable luxury scent.
- Next, the CONTINENTAL Signature Scent Reed Diffuser will give you 5-star vibes at home. The fragrance combines fresh and sweet notes for a lightheaded experience. It is full of aromas like tuberose, gardenia and jasmine. Together, these scents can help you relax.
- Lastly, the WILFORD Signature Scent Reed Diffuser makes for a strong home fragrance in Singapore. It uses the essence of coriander, ginger and black pepper to wake up the senses.
Gold Mama CNY Cookies Goodies
Chinese CNY cookies hold a special significance in the Chinese tradition. There is a reason biscuits like Kuih Kapit are folded like letters. These tasty bites symbolize "letters of love", folded like paper, baked for loved ones.
Some Chinese cookies can be stuffed with tiny parchments of paper. These cookies are called fortune cookies. The parchment contains a few words of wisdom which predict how your next year will go.
Special Chinese Goodies: During the Chinese New Year, these 5 bakes hold special meaning – Niangao, Pineapple tarts, Love letter, Hae bi hiam rolls and Bakkwa.
- The term Niangao literally translates to "Year Cake". This treat is meant to highlight the successes of the past year and the hopes for the coming year.
- Pineapple tarts are also served during the Chinese New Year. For the Chinese people, pineapple symbolizes the arrival of prosperity or good fortune.
- Love letters are crispy biscuits folded in the form of letters. In olden times, it was used to convey romantic intentions to others without speaking. If the other party ate your love letter it meant they liked you too.
- Hae bi hiam is prawn roll. Prawns in Cantonese is represented by "ha". This is also an expression for laughter. So by eating Hae bi hiam you ensure the next year is filled with laughter.
- Lastly, Bakkwa is red pork jerky which has been barbecued. In Chinese traditions, red is an auspicious color and therefore Bakkwa is eaten during the New Year.
Don't know which CNY cookies to buy? Try Gold Mama CNY cookies. Apart from love letters Kuik Kapit, Gold Mama also makes cheese balls, butter cookies, Gula Melaka, Nyonya Kuih, honey flakes, Dragon King and peanut cookies. 
Personalized Home Scent Based on Zodiac Signs
The Chinese zodiacs are different from the zodiacs associated with western astrology. For example, western zodiacs vary from month to month. But Chinese zodiacs are founded on 12-year cycles.
Read more: The Best Home Scent For Each Zodiac Sign
Apart from this, the Chinese zodiacs are exclusively represented by animals, one of which is a dragon, a mythical creature. The other Chinese zodiac animals are – rat, ox, tiger, rabbit, snake, horse, sheep, monkey, rooster, dog and pig.
If you want to gift your loved ones a home scent, learn about their zodiac. Every zodiac responds differently to different smells.
Zodiac Signs and Their Scents:
- People born in the year of the rat are dependable and steady. They work hard and do not shy away from long-term commitments. A scent like lemon will make these people more enthusiastic and outgoing. It will allow them to take a break and truly relax.
- People born in the year of the ox are sentimental and non-confrontational. They like to stay within their limits. The smell of lavender can enhance their emotions and indulge them in nostalgia.
- People born in the year of the tiger are driven, disciplined and idealistic. They like to better themselves in order to improve the world around them. The scent of Ylang Ylang can contribute to calmness.
- People born in the year of the rabbit are social and talkative. They like to switch from one topic to another. The smell of Sage can allow them to regain focus.
- People born in the year of the dragon are outgoing, brave and artistic. They can take on challenges and don't shy away from protecting their loved ones. The smell of peppermint can cool their temperament down.
- People born in the year of the snake are sensitive and nurturing. They like to live in the past and can be held back because of it. The fresh energy of orange can bring them back to reality.
- People born in the year of the horse are steadfast and friendly people. But they are no pushovers. The smell of chamomile is known to relax people born under this sign.
- People born in the year of the sheep are private and grounded. They love to live inside their comfort zone. A blended aroma called chaiis can help these people to come out of their shells.
- People born in the year of the monkey are spontaneous and excitable. The smell of eucalyptus is known to relax their forever-active brains.
- People born in the year of the rooster are go-getters who achieve their goals. The calming energy of cedarwood can help them achieve their aims. 
- People born in the year of the dog are team players and loyal. To help them work on their own, the scent of Blackberry is useful.
- People born in the year of the pig are talkative and good at negotiating. The smell of cardamom complements their natural talents well.
Mahjong Set Collector's Pick
Mahjong is a go-to pastime for many Asians whether they live in China or Singapore. During the Chinese New Year, families play this game to spend some quality time together.
Not only is Mahjong a fun game, but it has also beautifully designed sets and tiles depending on the manufacturer.
Some big brands also manufacture Mahjong sets. For example, Louis Vuitton makes Mahjong sets whose tiles come in a compartmentalized leather and gold fabric case.
Hermes makes Mahjong sets with leather-printed tiles while Prada uses Saffiano. Similarly, there are many beautiful Mahjong sets to choose from. They make excellent gifts to be shared with loved ones.
Aromatherapy Artisan-Made Reed Diffuser
By combining the right essential oil with the right reed diffuser Singapore, you can create your aromatherapy diffuser at home.
Aromatherapy incorporates the scents of essential oils to cure ailments, both physical and mental. Even if you are not suffering from a problem, the fragrance of essential oils is sweet and comforting. You will feel fresh and energetic.
A strong reed diffuser will transform your home space into a tranquil layer of peace and nirvana.
Gold-Plated Ornaments
Gold plays an important role in many cultures, including the Chinese. It is tradition for Chinese families to buy a gold item as gold symbolizes "Good luck".
Gifting each other gold-plated ornaments is like showering one another with blessings. Some ornaments are shaped like pineapples since the fruit also stands for prosperity and fortune.
Unique Design Horoscope-Themed Home Scent
Woody or citrusy, floral or oriental – it could be easier to hone into preferred fragrances if you took zodiac signs into consideration.
While there are no rules etched in the stars forever, finding out your signature scent through horoscope signs can be an interesting clue that helps you identify the scent that suits you the most.
For example:
- Nature-based fragrances will align more with earth signs (Virgo, Taurus, and Capricorn).
- Aquatic notes will attract water signs (Cancer, Scorpio and Pisces).
- The fire signs (Aries, Leo and Sagittarius) will prefer flamboyant, upbeat and warm fragrances.
- Light florals balanced with woody accents will sit well with air signs (Gemini, Libra and Aquarius).
In Conclusion
Essential oils can be great hamper gifts for CNY. If you don't know where to buy them from, visit Shiora. This Singaporean company caters to all your home scent and aromatherapy needs. In addition to oils, Shiora offers a range of roll-ons and reed diffusers.  
Check out our latest Chinese New Year promotion.