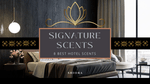 Best 8 hotel scents that feel like travelling to holiday destinations
Did you know you could have a hotel-like experience at your home? Yes, you don't have to renovate your home. Buy the same scents that hotels use, and your home will smell like a hotel. It is a known fact that smell is the most powerful sense. When you smell something familiar it triggers memories.
So, when you smell the same fragrance a hotel uses, you would be reminded of the hotel. You don't have to travel to holiday destinations. Enjoy a holiday at home. Get an aroma diffuser and use a hotel scent to get the same effect. You can enjoy a hotel-like holiday from your home and have a great time.
Where to travel from Singapore this year?
As we mentioned, you can have a staycation at home using the best hotel-inspired scents to get a hotel-like feeling. But after two years of the pandemic and restrictions, you probably want to see the world. We have some suggestion for you on where to travel for a holiday this year. Here are 5 places to visit this year from Singapore.
The best travel destination from Singapore this year is the island of Bali in Indonesia. This beautiful island has great beaches where you can relax. There are also temples and plenty of other things to do on this great island.
Second favorite destinations for Singaporeans is Japan. The island country has a lot to offer for tourists. Tokyo, Osaka, and Kyoto are destinations where there are many things to do.
If you want a sunny place for your vacation, then Australia is a great destination. The lovely beaches and the amazing Great Barrier Reef are just two of the reasons to visit this country. Melbourne, Sydney, and Gold Coast are some of the cities to visit.
An all-time tourist favorite, Paris has the magnificent Eiffel Tower. There are also various museums and places of historical importance to visit. You can enjoy the best of French culture and cuisine when you visit this lovely city.
One of the hottest tourist destinations, the desert city of Dubai has many attractions. From the tallest building the Burj Khalifa to a host of entertainment options, there is plenty to do in Dubai. It is a great family holiday destination that you are sure to love.
8 Hotel inspired scents to make your house smell like a hotel
Every 5 star hotel has a signature scent, one that people would associate with the hotel. This is done so that you remember the hotel whenever you smell that scent. The scents at 8 different hotels are now available for you. Buy Shiora's hotel scent diffuser product related to the hotel and you can make your house smell like a hotel.
1. The Duchess
The hotel scent fragrance oil used will remind you of the Dunhill Hotel. The word 'Duchess' is a royal title used to refer to the wife or widow of a Duke. This is an important royal title that ranks just below the King and Queen. In the UK, Kate Middleton, the wife of William, the heir to the throne, is the Duchess of Cambridge.
The Duchess is addressed as 'Your Grace'. There have been many famous duchesses in history. The grace, dignity, and grandeur associated with this royal position can be seen in the hotel. This is a hotel that is fit for nobility.
The scents remind you of the royal heritage of the hotel while including a touch of modernity.
2. The Shangri-La
The scent reminds you of the luxurious hotel in Shangri-La city. It would be very interesting to know the origin of the name. Shangri-La is a fictional place. It does not exist and was first mentioned in James Hilton's novel 'Lost Horizon' published in 1933. The concept of Shangri-La is of a paradise on earth.
It is a Himalayan land separated from the rest of the world. There have been many expeditions to try and find if this place really existed. Shangri-La is heaven on earth, which is what this hotel is. You can make your home a heaven on earth by using this affordable luxury scent.
3. The Wilford
This travel scent is inspired by the Wilford hotel in Westin and will make you feel as though you are staying at this hotel. The name of this hotel Wilford is based on a village in England. Located in Nottinghamshire, Wilford was a village until the end of the 19th century. After this, industrialisation and modernisation saw sea changes in the village.
Wilford is a place that transports you to a sylvan place in England. Using this product will make you feel as though you are in England; a unique product to use.
4. The Continental
Continental is one of the top hotels brands in the world. Interestingly, this is a Romanian hotel brand. It is a large chain with outlets across Romania. The word Continental is derived from continent and refers to the different continents in the globe. The most interesting use of the word continental is as in continental cuisine.
European cuisine is usually referred to as Continental cuisine. There is even a CP or Continental Cuisine plan while choosing food at hotels. With so much about Continental, the scents of the Continental would definitely be exotic.
5. The Mandarin
The Mandarin hotel group is a Hong Kong-based hotel chain known for running quality hotels. There are different meanings you can gather from the word Mandarin. It is, of course, a language spoken in China with more than 900 million people speaking it. A top bureaucrat in the civil services is usually referred to as a Mandarin.
Mandarin is also the name of a type of orange. The luxury scent of the Mandarin is inspired by the Mandarin orange. You can now experience this scent in your home when you use this product.
6. The Parisian
The Parisian is a hotel associated with Paris, the capital of France. The city of Paris is named after a nomadic tribe known as the Parisii. This tribe was later conquered by the Romans and they formed a town named Lutetia. In the 4th century, Lutetia was renamed as Paris. Today the city is known as the fashion and cultural capital of the world.
A holiday in Paris can be exhilarating as you savor the culture of the city. It is one of the most popular cities in the world for tourists. With this product, you can get to inhale a Park Hyatt-inspired European scent that will transport you to Europe.
7. The Santiago
Santiago is the capital of Chile and is one of the largest cities in the American continent. Did you know how Santiago got its name? It is a Spanish name derived from Sant logo, who was none other than the brother of John the Apostle.
It was earlier called Pueblo of Santiago Apostol de Carig and was renamed to Santiago in 1950. The scent will take you to Santiago and you can get a picture of how the hotel looks like with Sheraton-designed furniture.
8. The Victorian
The Victorian is a hotel located in the floating city. Venice in Italy is known for its waterways and Venetian culture is also famous. But the name of this hotel has nothing to do with Venice. It is related to Queen Victoria, one of the greatest rulers of all time. The period of her reign was known as the Victorian era.
She was so popular that anything related to her era is termed Victorian. A hotel named Victorian would have elements that take you back to the age when Victoria ruled over the world. This Shiora product will take you back to the Victorian era with its unique blend of scents.
Why do hotels smell good? What scents are used in hotels?
Hotels recognise that smells can arouse emotions and memories. This is why they ensure the hotel lobby scents and hotel room scents are unique. Hotels use a signature scent, a blend of various fragrances you cannot find anywhere. When you smell any of the oils used in this scent, it will transport your mind back to the hotel.
Hotels like to smell good, so that guests have a pleasant time. Using a pleasant fragrance would ensure guests feel relaxed and comfortable. It helps the hotel to keep customers happy, while creating memories. They would use a strong reed diffuser with a unique blend of essential oils.
The luxury hotel scents are part of the hotel's brand-building exercise. It allows them to create a solid and favourable impression on guests. It is a known fact that scents from essential oils have therapeutic effects. Guests would feel relaxed, energised, or refreshed depending on the kind of scent used. 
Guests can benefit from aromatherapy since it is a well-known fact that fragrances have therapeutic effects. Hotels select the oils for use carefully, trying to create a blend that smells good and refreshes the mind. The scents would be so powerful that they would make an immediate impact.
If you want your home to smell as good as hotels, you can buy the best reed diffuser Singapore product from Shiora. Visit Shiora's website to learn about their hotel-inspired scents. These scents will make your home smell like some of the top hotels. If you are looking for unique Singapore gifts, you will find them at Shiora. The travel collection reed diffuser has the same scents that top hotels have. Get any of the affordable hotel scent and use it in your home or gift to others. It is a great way to have a hotel-like experience.
Conclusion
Having a hotel-like experience at home makes your home even more comfortable and memorable, especially when you miss home while working overseas.
This also helps when your are expecting guests, especially during celebrations such as Chinese New Year or Christmas. Amaze your guests with the wonderful hotel-like experience that you can let your guests experience.  
Subscribe to Shiora newsletter to get notifications on our latest newsletter and  enjoy a free reed diffuser starter kit to try out before buying.