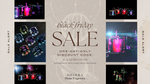 Top 15 Great Deals Ahead: Black Friday Sales in Singapore 2022
The time has finally come! Black Friday is just around the corner, and that means some major sales and discounts are on the way. If you're looking to save big on your holiday shopping this year, you'll want to make sure you're prepared for the madness.
We've put together a guide to help you navigate the Black Friday sales in Singapore. Here, you'll find information on when the best sales will be, what kind of discounts to expect, and where to find the best deals. So mark the date in your calendar and get ready to shop till you drop!
What Is Black Friday?
Black Friday is the biggest shopping event of the year in the United States, and it's making its way to Singapore! Get ready for some amazing deals on the biggest brands.
Black Friday is a shopping extravaganza that takes place the day after Thanksgiving. It's traditionally seen as the start of the Christmas shopping season, and retailers offer huge discounts on a range of products.
Singaporeans have been eagerly waiting for Black Friday to come to our shores, and this year, it's finally happening! So mark the date in your calendar and start planning your shopping spree. You're not going to want to miss out on these incredible deals.
When Is Black Friday in Singapore in 2022?
You can expect the Black Friday sales in Singapore to happen on the last Friday of November 2022 - 25th Nov 2022.
Similar to how it is celebrated in the United States, Black Friday is a day when retailers offer major discounts and deals to shoppers.
If you're keen on scoring some good deals, mark the last Friday of November 2022 on your calendar and start planning your shopping spree!
Great Deals in Singapore
It's that time of the year again where everyone is looking for the best deals to shop for their loved ones! Get ready for Black Friday 2022 sales in Singapore, happening from the 23rd to the 26th of November. Some discounts will last until year-end, so mark the dates! You'll be able to find great discounts on a range of items, from clothes and cosmetics to appliances and home furnishings.
So mark the dates in your calendar and start planning what you want to buy. Remember to shop early for the best picks, as stocks tend to run out fast during Black Friday sales. And be sure to have your credit card ready, as you'll definitely be able to rack up some major savings!
Top 15 Black Friday Promotions and Deals 2022 in Singapore
1. Black Friday offers up to $21 off at Klook
We go to Klook to find staycation savings, family-friendly activities, and kid-friendly classes. Klook never disappoints when it comes to Black Friday offers, and they won't this year either!
Details of the Black Friday 2022 promotion include the following: on November 25th, receive $21 off your order with a minimum spend of $150, and on November 28th, receive $11 off with a minimum purchase of $110.
2. Black Friday sales at Amazon: up to 50% off
You can count on Amazon to have everything you need, from toys to technology to infant care supplies and household goods! We're thrilled to learn that Amazon.sg will be offering fantastic Black Friday offers! Shop for all of your favorite brands and receive discounts of up to 50%, from Oral-B and Olay to Braun and Philips household appliances.
Details of the Black Friday 2022 promotion: From November 25 to November 28, this promotion will offer savings of up to 50%.
3. Planet Collection Series 1 FOR 1 Value Bundle For Your Home
This bundle is all about coziness, so a fragrant home is a must! With SHIORA, you can make your home smell as good as it looks.
Fill your home with new, fresh scents with a 1 FOR 1 discount code (ONLY VALID FOR ONE DAY).To get the ideal diffuser aroma for you, choose from our selection.
Whether you're seeking a calming home fragrance or something more stimulating, we have scents for any occasion.
Key in: BLACKFRIDAY1FOR1 at check out. Get any 2 Reed Diffusers from Voyage Collection at a discounted price of one today!
4. Value Bundle Gift Set of Essential Oils (+FREE GIFT)
Looking for a nice and unique gift for your special someone? This bundle is just what you need.
The ideal way to experience aromatherapy at a great price is with Shiora's Pure & Natural Essential Oil Gift Sets! You'll get four 10 ml bottles of essential oils, as well as a free mist diffuser, so you can enjoy months of aromatherapy.
Fill your home with the scent of affection and pleasant memories with this 4-piece essential oil bundle and a FREE mist diffuser.
Choose four distinct scents from our 8 Essential Oil Series to fill your home right now!
5. ErgoTune Supreme V3: S$509 from ErgoTune Singapore (savings of S$90)
A high-quality office chair with a mid-range price is the ErgoTune Supreme V3 chair. This will be one of the best office chairs on the market right now because it has a premium design and construction, as well as a plethora of adjustable settings across three distinct size ranges. ErgoTune has significantly reduced its standard pricing by SG$90.
6. Robinsons SG is selling the Logitech MX Keys Mini keyboard for SG$135 (save SG$44)
The Logitech MX Keys Mini is a wonderful choice if you're looking for a compact and small keyboard. The pink version of this device, which includes wireless connectivity and illumination under the keys, is presently priced SG$135 at Robinsons SG.
7. Aromatherapy Collection Scents Reed Diffuser: Value Bundle for Your Home
"My house smells fantastic now that I've just cleaned it! I'm so happy I was able to get it to smell good organically."
We all want our homes to have that warm, pleasant, fresh scent.
Shiora is pleased to offer you our aromatherapy home fragrances that are ideal for your space in order to help homeowners like you keep your home fresh, tidy, and welcoming.
The Aromatherapy line of our reed diffusers offers 4 all-natural smells for you to choose from. Refresh your house with the natural scents of citrus, flowers, and herbs.
Now at $59.90 (USP: $119.80)
8. Exclusive Bundle Gift Set: Handkerchief and Essential Oil (MADE IN JAPAN)
A stylish handkerchief that you may use to carry around your preferred essential oil smell
How to use?
1. Apply a few Essentia Oil drops to the sachet
2. Place the sachet in a pocket made of lace.
3. Carry a handkerchief in your backpack or pocket to release a sweet scent.
You can wash the sachets by hand once more to breathe in the fragrances of the essential oils right from the cloth.
Original bundle gift set at $50.54, now at $39.90 only! Limited Stocks available.
9. Nintendo Switch: Save SG$90 on Amazon Singapore at  SG$388
The Nintendo Switch was reduced to SG$360 during Black Friday deals the previous year. You can currently purchase one from Amazon for almost that amount. While SG$388 is a respectable deal, it would be worthwhile to hold off a little while to see if the price drops even more during the promotions.
10. IPPUDO Ramen: 25% off Black Friday specials
Do you have a ramen craving? You can rely on IPPUDO Ramen! On November 25, 2022, receive 25% off all IPPUDO Ramen when dining in at any Singapore IPPUDO Ramen location (except the Marina Bay Sands outlet).
Details of the Black Friday 2022 bargain from IPPUDO Ramen include a 25% discount on all IPPUDO Ramen when dining in at any IPPUDO Ramen stores (excluding the IPPUDO Ramen Marina Bay Sands outlet).
11. PlayStation: Exclusive special pricing and Black Friday deals
Players ecstatic! From now until November 28, 2022, PlayStation will honor Black Friday with special discounts and offers! Purchase a variety of PS5 and PS4 games at reduced prices, including the PlayStation®5 title Ghost of Tsushima: Director's Cut (U.P. $97.90), which is now only $67.90. DualSense Wireless Controllers are also available for $72.90, and you can save up to 75% on a number of PS Store titles, including EA Sports FIFA 23, NBA 2K23, and others.
During this Black Friday offer, you can also sign up for a 12-month PS Plus subscription and save 25% on the subscription cost (upgrades for current PS Plus users are discounted by 25%).
12. Kanada-Ya: 25% cash back on Black Friday sales
For one day only, on November 25, 2022, all Kanada-Ya outlets will provide 25% cash rebates! This multiple-location restaurant that has won awards is well-known for its truffle ramen and is located all around Singapore.
Details of the Black Friday 2022 promotion from Kanada-Ya include unlimited 25% cash rebates with no minimum expenditure when dining in at any Kanada-Ya location.
13. Black Friday sales at Sephora: up to 20% off the entire store
Buy all of your favorite skincare and cosmetics for yourself! At the next Sephora Black Friday sale, treat yourself to these goods at a fraction of the regular price, including Jo Malone, Rare Beauty, SK-II, Huda Beauty, Drunk Elephant, and more!
Details of the Black Friday 2022 promotion at Sephora include up to 20% off of all items in-store.
14. Black Friday discounts up to 40% off at The Body Shop
Looking to complete your Christmas shopping in a hurry? We also enjoy the body butters and lotions from The Body Shop since they make excellent sticking fillers. Stock up on gift baskets to use as pressies for your assistant or teems. From November 17 to November 23, 2022, shop the Body Shop's fantastic Black Friday bargains to get fantastic savings on a selection of products, including gift sets!
Details of the Black Friday 2022 promotion include up to 40% off regular-priced items and a 25% discount on gift sets.
15. Shopee: Black Friday discounts include up to 50% off and 15% cashback.
What goods are available on Shopee?
Details about the Black Friday 2022 deal: Shopee's Black Friday sale begins on November 27, 2022, and some of the featured offers include up to 15% cashback on flash vouchers, over 50% off on tech gadgets, million-dollar discounts, midnight 20% off flash sales, and promotions for customers of Citibank and Standard Chartered cards, among others. As usual, you can stack different coupons at the checkout to obtain the best Black Friday discounts.
Tips for Shopping on Black Friday
Here are some tips to help you make the most of Black Friday sales in Singapore:
- First, create a budget and stick to it. It's easy to get caught up in all the excitement and spend more than you intended.
- Second, make a list of what you need and want before the sale starts. This will help you stay focused and avoid buying things you don't really need.
- Third, do your research ahead of time. Compare prices and read customer reviews to ensure you're getting a good deal.
- Fourth, be patient and don't panic if the items you want are sold out. More stock will likely be coming in throughout the day, so just keep checking back.
- Finally, take your time and don't rush into anything. It's important to remember that not all deals are created equal, so it's worth taking the time to find the best one for you.
How to Prepare for Black Friday Sales
Now that you know when Black Friday is, you're probably wondering how you can get the best deals. Here are a few tips:
- Make a list of the items you want to buy ahead of time so you know what to look for when the sales start.
- Research the prices of the items on your list to get an idea of how much you should be paying. This way, you'll know if the Black Friday deal is actually a good deal.
- Keep an eye out for early bird specials and doorbusters, which are usually announced a few days before Black Friday. These are usually limited time or quantity offers, so if you see something you want, make sure to grab it quickly!
- Sign up for newsletters from your favorite stores so you can be the first to know about their Black Friday deals.
- Follow your favorite stores on social media for even more information on their sales and promotions.
FAQs About Black Friday in Singapore
You might be wondering, is Black Friday a thing in Singapore? and the answer is yes! Black Friday sales are becoming increasingly popular in Singapore, with more and more retailers participating each year.
What started as a one-day event in the US has morphed into a global phenomenon, and Singapore is definitely not immune to the Black Friday madness. In fact, Singapore was ranked as the fourth most prepared country for Black Friday sales in 2019, behind only the US, UK, and Canada.
So if you're looking for some great deals on Black Friday, you'll definitely find them in Singapore. But before you start your shopping spree, here are a few FAQs that you might want to know about Black Friday in Singapore.
Conclusion
With Black Friday just around the corner, there's no better time to start stocking up on all the things you've been wanting! But with so many sales and deals going on, it can be hard to know where to start.
Here are some great tips to help you make the most of Black Friday sales in Singapore:
1. Plan ahead and make a list of the items you want to buy. This way, you can budget and avoid overspending.
2. Do your research and compare prices before making any purchases. There are plenty of price comparison websites that can help you with this.
3. Keep an eye out for early bird specials and doorbuster deals. These are usually the best offers and can help you save a lot of money.
4. Avoid buying things that you don't need just because they're on sale. Stick to your list and only buy what you really want or need.
5. Make sure to take advantage of coupons and discount codes. This can help you save even more money on your purchases.
Follow these tips, and you're sure to find some great deals on Black Friday!
Follow us on Shiora Instagram to check out great deals we offer!!!
Subscribe to Shiora newsletter and enjoy a free reed diffuser starter kit.