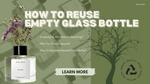 How to Reuse Your Empty Reed Diffuser Glass Bottle?
The environment has been a hot topic in the modern day. If you have an empty glass jar or an empty reed diffuser bottle, there are better ways to reuse them before throwing them away. You can handle such empty bottles in an eco-friendly manner; for example, reuse or upcycle certain empty aroma diffuser bottles. Read this guide to learn about creative ideas for upcycling old bottles.
What is upcycling and why is it important?
Upcycling is a process where a product is modified and turned into a new one. It is unlike recycling, where an old product is broken down into reused for something else. In upcycling, the product is not broken down or destroyed but used as it is by making minor modifications.
Upcycling is the creative reusing of a product to put it to a new use. The new product is usually more valuable as compared to the old one. The classic example of upcycling is turning old clothes into new garments. Converting an old cabinet into a door is another example of upcycling.
We can understand the importance of upcycling by looking at the various benefits it offers:
Upcycling makes use of creative ways to reuse products. Instead of throwing away a product you don't need, you can use it again in a better way.
It promotes sustainability. Upcycling is eco-friendly since it prevents things from being thrown into the garbage, from where it would reach a landfill.
It ensures the effective use of resources. A new product can be created using existing resources, reducing the impact on the planet.
Upcycling is a great way to demonstrate your commitment to the environment. You can do your bit to reduce your carbon footprint.
The result of upcycling is an innovatively made product that helps save money.
Why should you upcycle your reed diffuser bottles?
When you buy the best reed diffuser Singapore, you have a product that can be used for aromatherapy. You can use reed diffuser sticks with essential oils to create a great fragrance. When you buy Shiora's best reed diffuser, you have a quality product that lasts for many months.
The question is what to do with the bottles after using the oil. You can upcycle the old bottles and put them to a different use, and upcycling allows you to convert the reed diffuser bottle into something useful.
Upcycling allows you to reuse the reed diffuser bottle creatively, and by doing so, you are doing your bit for the environment. If you had thrown the bottle away, it would have probably ended up in a landfill impacting the environment. Reusing it is a good idea and also saves money. It allows you to showcase your creativity. If you have reed sticks and empty bottles, use the ideas below to use them creatively.
How do you decorate a reed diffuser?
One way to upcycle a reed diffuser bottle is to use it as a decorative item. You can decorate the bottle and display it anywhere in your home. This helps you create an interior décor item that looks good.
However, before you decorate or upcycle a reed diffuser bottle, you must first clean it. Here is how:
First, empty the Shiora reed diffuser bottle. You can discard any old sticks since we cannot reuse them.

Next, you need to wash the bottle thoroughly before reusing it for any other purpose. Washing with plain water is not sufficient because the essential oils would have left behind a strong scent.

Use a dishwashing liquid to clean the bottle. Then, thoroughly wash it with hot water. If required, repeat until it is properly cleaned. 

Leave the bottle on a window sill until it dries completely.

The bottle is now ready to be reused once it has entirely dried up.
You can decorate the bottle by painting it. Use paint creatively to turn it into a work of art. The exciting idea is to paint the old reed sticks and use them as a décor element.
What can you do with an empty reed diffuser?
There are different things you can do with an empty reed diffuser bottle. Remember to follow the instructions given above to clean the bottle before reusing it.
1. Use as hanging decorations
If you want to use the diffuser bottle for decoration, use it as a hanging decoration. Fill the bottles with decorative items like the colour paper of different types. Use twine to suspend the bottle converting it into a hanging décor.
2. Mini flower vase with dried flowers
Another décor idea is to convert the bottle into a mini flower vase. Clean the bottle and keep it on the table as a vase with dried flowers. The tiny flower vases would look vintage, cottagecore, and make an excellent interior décor.
3. Bring for a customised Mini Terrarium in a jar
You can create a mini terrarium by reusing the diffuser bottles. A mini terrarium can contain pebbles, soil, and mosses. Consult a terrarium artist in Singapore on how to make the best-looking terrarium for your bottle size.
4. Turn it Into a Mini Jar Decorative Light
Stuff fairy lights in the jar and turns the empty reed diffusers into romantic night lights to decorate your bedroom. Put it on your working desk or at your bedside to use it as a night light.
Conclusion
Shiora reed diffuser bottles have a stylish look suitable to decorate anywhere in your home. The uncomplicated look and monotone colour will blend in well with any house design. You can decorate Shiora reed diffusers both before and after using the reed diffusers. Having an idea on how to efficiently place your reed diffuser will help maximise your experience on using a reed diffuser.