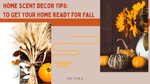 Home Scent Decor Tips to Get Your Home Ready for Fall
Fall brings along the feeling of calmness and pleasantness. It is the time when leaves turn orange-yellow and temperatures fall, yet you will find everything around you appealing. You can decorate your home as well to make it sync with nature's seasonal transformation if you want to enjoy the season to the fullest. This article is for you if you are looking for fall home decor tips and tricks. Although Singapore does not have four season, there are several ways to enjoy the autumn vibe by decorating your home with fall theme! Use this guide as some tips to decorate your room with fall atmosphere!
What is popular for fall decorating?
Beautify your home to align with the fall. From your living room, kitchen and washrooms to the outdoor space, you can transform your home to give it a new look.
- For instance, add a fresh coat of grey or white paint to your drawing room walls. These hues go well with the fall. Get contrasting colour curtains to bring out that perfect look.
- If you have a backyard garden, it is time to pay attention to it. Deciduous trees shed leaves during this time, some leaves turn yellowish. So if you have them in your garden, make sure to clean them often. Add some lights to your garden space, they enhance the curb appeal of your home. Moreover, since the days are shorter during fall, adding lights would be a great idea.
- You can decoratively place dry leaves and flowers in your living room and bedrooms.
These are some easy fall decor ideas to prepare your home for the season, but we suggest you get a little creative and go for unique décor. Create a trend instead of following one!
Are you wondering what we mean? Well, we feel decoration is not only about the look but also the atmosphere. Simply said, you need to feel the décor as well. But how? Add some fresh scents!
You can try the most popular pumpkin and lavender scents; the wonderful blend of these earthy scents can add a distinctive smell to the atmosphere. The fragrance is tantalizing and can make your home simply delightful.
Since the pumpkin spice rules fall, you can also explore the pumpkin vanilla scent. Try DIY, but if you are unsure how to go about it, simply buy one. It is readily available online.
But why pumpkin? Are there any exceptional pumpkin scent benefits?
Made from Cinnamon, cloves, nutmeg and ginger, this blended fragrance is stimulating and warming. It promotes digestion and reduces symptoms associated with bloating and flatulence. The scent also uplifts your mood during the damp season. While the ingredient ginger helps you deal with confusion, sadness, burnout, and sexual anxiety, nutmeg calms nausea and offers comfort. Just add a few drops to your reed diffuser and experience its benefits.
For more essential oils and reed diffusers, visit Shiora website. Our products are extraordinary and made with attention to detail.
Read through. We have more fall home decor ideas!
Creating cozy home for fall with scents
Decorating your home is not only about the visuals, but scents play a vital role too. 
Cinnamon, pumpkins and apple scents are synonymous with the fall. But do you want to smell only these fragrances every autumn? Try something different this time!
You can find aromatherapy products that transform your emotions while enhancing your space's beauty. There are pure essential oils and reed diffusers with warm tones that can completely change your home atmosphere for good. Choose the suitable essential oils for fall and experience a unique feel this season. Use extraordinary cozy fall decorating ideas for your home and make the space welcoming.
Here are some essential oils you can try:
Lavender essential oil has a light, fresh floral scent that can elevate relaxation and peacefulness.
Eucalyptus essential oil, on the other hand, strengthens your senses, uplifts your mood, and freshens the atmosphere.
Sweet Orange essential oil is also excellent, it can ease your stress and can create a sense of delight around.
These are only a few to mention, there are a lot more you can check out on Shiora.
Some of the best reed diffusers include Sandalwood Peppermint scent, Cedarwood, Citronella, Cotton Candy, Better than Chocolate, and Sumo Orange. Reed diffuser sticks are also an option. You can find all these and more on Shiora.
Reed diffusers can be placed in your home or office. They are an integral part of home décor, and the essences fuse with the fall.
Our reed diffusers are beautiful themselves, but you can go a step ahead and make the space more vibrant by adding some bright colours to your reed diffuser. Simply decorate the bottle's colour of your choice and place it where you want. You can use dried flowers as well to decorate your reed diffuser. Spread the aroma around while making the interior cozy and attractive.
Go on for more home decor tips and tricks that work in each room in your home!
Fall scent decorating ideas for living room
Living room is a space where family and friends gather; therefore, it is the most suitable to have a mild scent that linger around which suits everyone's taste.
Your living room is also where you spend most of the time at home. So when choosing a fragrance for this space, make sure to go with a scent you most like. Generally, earthy scents are ideal for the living room; of course, you are free to go with your choice. Lavender and the citrus-smelling sweet orange essential oils are our recommendations. Bergamot and Lemongrass are also good choices. Additionally, your living room can be decorated with autumn candles and sticks. Besides giving out a noticeable fragrance, these products create an ambience well enough to host a fall party.
Place your essential oil reed diffuser in the hallway where there is free air movement so that the scent is diffused around efficiently.
These easy fall décor ideas for your living room can create magic. They can totally alter the look of your space and boost your physical and mental health. This fall, enjoy the atmosphere both outdoors and indoors.
fall scent decorating ideas for bedroom
For bedroom, it is the best to have a relaxing warm tone such as cedarwood. With the sweet note of scent, cedarwood scent reed diffuser works the best in the bedroom, creating a cozy feeling for fall season.
Here are some unique scent for autumn. Pumpkin vanilla scents are believed to turn the mood on, so they are best preferred for this private space. However, you can also try buying new fragrances to experience the unusual.
Peppermint pure essential oil is an excellent choice for decorating your bedroom. The scent has a minty fragrance and the ability to relieve tension. It is soothing and provides relaxation. Doesn't it feel wonderful when you can unwind simply by inhaling the aroma of a pure essential oil right in your bedroom?
Another relaxing scent, the Bergamot pure essential oil, gives out a citrusy and floral aroma. Apart from comforting your senses, it lightens your mind and heart to a great extent. Just perfect to promote a good night's sleep!
Place the scent on a table next to the window or at the entrance of your bedroom to smell the fragrance every time you enter the space. Placing an ambient bedside table and adding dull blue lights also make your bedroom décor excellent.
fall scent decorating ideas for bathroom
Your bathroom is where you freshen up and get set for the day ahead. So don't you think decorating this space is as essential as beautifying the other parts of your home? Getting started in a lively atmosphere, especially during the damp fall, will set the mood right for the rest of the day.
Use refreshing scents to transform your bathroom into a spa. Avoid strong fragrances; overwhelming the space is not a good idea. The aroma you choose for your bathroom should be light, soothing, and create a sense of freshness around.
Lemongrass pure essential oil scent is refreshing and can help you get rid of bad moods. The scent also promotes confidence and alertness. Most importantly, this mild citrus scent encourages you to start your day with positivity and enthusiasm, simply suitable for the bathroom!
Bathroom will also smell the best with a stronger scents like peppermint or lemongrass. Citrusy smell works better because it can work as a natural insect repellent scent to decorate. Smells good, and feels good to start your day!
fall scent decorating ideas for outdoor
Fall home decor ideas also involve your outdoors. Elevate the curb appeal of your home by decorating your outside space. While the patio or entrance should be welcoming, your backyard can be beautified to offer a calming feel.
For outdoor, putting scented blends is not recommended as you will not be able to smell them. However, you can plant some trees or flowers that can give the natural scent and smell good whenever you open the room windows.
Beautifying homes with paint, flowers, lights and other decorative items have been here for a long time. However, in recent times, people have realized it is not only the looks that matter. Experiencing the décor is also important. Here's where scents have a role to play.
Fill your home with exceptional, intense fragrances from Shiora. We have top-quality essential oils and reed diffuser scents, all made with love and care. This fall, smell our scents, and stay healthy and positive!
Conclusion
Follow us on Shiora Instagram  to check out offers and give reviews. 
Subscribe to Shiora newsletter and enjoy a free reed diffuser starter kit.