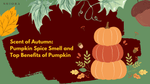 Scent of Autumn: Pumpkin Spice Smell and Top Benefits of Pumpkin
Everybody is familiar with the beautiful orange pumpkin which has become synonymous with Halloween. Interestingly, pumpkin is a fruit which is much more than a tasty cuisine. In fact, there are many pumpkin benefits - from its flesh to its seed and even its scent. There are green pumpkin benefits as well.
This article is all about pumpkin benefits, with a special emphasis on the pumpkin fragrance. Now that autumn is here, let's dive into the mystery of pumpkin!
What does pumpkin smell like?
The scent of pumpkin depends mainly on its form. For instance, the smell of raw pumpkin will vary from a pumpkin pie. A raw pumpkin will carry the distinct aroma but also smell raw and fresh. On the other hand, a pumpkin pie will smell of sugar and spices in addition to smelling like cooked pumpkin.
Pumpkin-inspired scents carry the quintessential pumpkin flavor. However, they will most likely also include additional warm notes like cinnamon.
Why is pumpkin spice so popular?
According to John Hopkins University researchers, the flavor of pumpkin spice triggers a nostalgic reaction in people. The season of Halloween is marked by the harvest of pumpkins. For years, people have looked forward to the aroma and taste of pumpkin with cinnamon during the autumn season.
When human take a whiff of the pumpkin spice, their brain rewards them with the happy memories of festivities and family time. After all, thanksgiving also occurs around the same period.
Pumpkin Vanilla Scent
The pumpkin vanilla fragrance is a match made in heaven. Both notes complement each other perfectly. Vanilla carries the proverbial mouth-watering aroma while pumpkin adds a hint of freshness and spiciness.
This is the reason why many skincare products like lotions and shower gels come in the pumpkin vanilla fragrance. The combination of these two aromas produces a relaxing sensation.
Pumpkin and Lavender Scent
The pumpkin and lavender scent is another tremendous aromatic pairing. Both pumpkin and lavender have a distinct smell. When mixed together, they create a magical olfactory experience. The smell of lavender is marked with lightness and freshness. Its scent can be described as floral with balsamic undertones. On the other hand, pumpkin has a spicy smell with some sweetness to it. Both these aromas blend well together.
Pumpkin Scent Benefits
There are some notable pumpkin scent benefits. As mentioned earlier, pumpkin on its own has a fruity aroma. However, with the mixture of spices like cinnamon, cloves and ginger, the scent of pumpkin can be elevated to legendary proportions.
In terms of aromatherapy, the smell of pumpkin spice can trigger warm feelings of the past. Many people find the aroma of pumpkin spice soothing and comforting due to this reason.
Pumpkin Seeds Benefits
Speaking of pumpkin seeds benefits, there are several. As a seed, pumpkin is loaded with many essential nutrients like minerals, vitamins, protein and healthy fats. In fact, pumpkin seeds are one of the richest plant sources of zinc.
Pumpkin Leaves Benefits
While you enjoy the rich pumpkin flesh, do not ignore the pumpkin plant leaves or even the pumpkin vines. There are many pumpkin leaves benefits to enjoy.
The leaves are a rich source of Vitamin C, Vitamin A, iron, calcium and protein. Similar to most dark leafy vegetables, the pumpkin leaves are loaded with nutrients. The best part is, it takes mere minutes for the leaves to cook. So serve them along with the sweet pumpkin pie.
Pumpkin benefits for female
There are many pumpkin benefits for female. Men can reap health advantages from pumpkins as well. In addition to that, there are also many pumpkin benefits for skin. This means consumption or application of pumpkin will give flawless complexions to the ladies.
A mixture of pumpkin purée with apple cider vinegar can help reduce the oiliness of the face. Simply apply this paste evenly on your skin and let it sit for half an hour. Then, rinse it off using cold water.
Similarly, by mixing pumpkin purée with a little bit of milk and honey you can reduce symptoms of dry skin. Let this mask sit on your face for 15 to 20 minutes. Also, avoid applying the mixture around the eyes.
Regular consumption of pumpkin imbues your body with antioxidants like Vitamin C and beta-carotene. Both antioxidants have anti-ageing properties and impart a glow to the skin.
It can also help with dark circles with the help of pumpkin purée. Simply add honey, lemon and Vitamin E oil into the mixture and apply it on your dark circles. 
By making pumpkin a part of your daily diet, you can even control your acne condition. Pumpkin is full of beneficial nutrients like folate, riboflavin and niacin which help in fighting the acne-causing bacteria.
Pumpkin benefits for male
There are many pumpkin benefits for male. Similar to women, application or consumption of pumpkin can help men with skin conditions like dark circles, oily skin, dry skin, aging and acne control.
With nutrients like zinc and potassium, regular pumpkin intake can help in hair growth. In addition to that, you can use pumpkin oil to massage your scalp for better blood circulation.
By mixing pumpkin purée with yogurt, honey and coconut oil, you can create your own homemade hair conditioner. Apply it to your hair after a shampoo. Leave it for 15 to 20 minutes before rinsing it off properly.
According to some studies, there might be some pumpkin benefits for diabetes. After all, pumpkin is full of rich nutrients like – Vitamin A, Vitamin E, Vitamin C, carotenoids, niacin, copper, phosphorous, calcium and many more. The best part is, pumpkin is low on calories, which means you can reap all the health benefits without worrying about gaining weight.
Due to its antioxidant properties, pumpkin can aid in relieving many health conditions. For instance, regular consumption of pumpkin can reduce asthma-related attacks. The fruit is also known to relieve heart problems while boosting your immune system. Some studies also show pumpkin's effectiveness in uplifting mood and fighting depression.
Conclusion
If you like the fragrance of pumpkin spice, be sure to check out more scents at Shiora Home Fragrance Singapore. Shiora brings you home and office fragrances to lift your spirits up anytime you want. The store also offers pure essential oils and reed diffusers to spread the delicious notes all around your space.