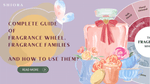 Complete Guide of Fragrance Wheel, Fragrance Families and How to use them
What a colour wheel is to the understanding of colours, the fragrance wheel is to the knowledge of different aromas. The wheel is an elaborate circular diagram which states semblances and dissimilarities between various scent flavours.
The origin of the fragrance wheel can be traced back to the year 1949. Paul Jellinek, a perfumer from Austria, is credited with the conception of the wheel. We can find the first mention of the fragrance wheel in Jellinek's book, Practice of Modern Perfumery. The wheel was referred to as the "Odors Effect Diagram" back then. 
However, the wheel has undergone many evolutions since then. In 1979, U. Harder created the "Fragrant Circle"; in 1984, Ann C. Nobel reinvented the wheel as the "Wine Aroma Wheel". The modern fragrance wheel is inspired by Michael Edwards's 1992 reimagining of the wheel.
Now fragrance wheels are used for a multitude of purposes. There is a fragrance wheel for candles, diffusers, perfumes and much more. The wheel guides to creating blissful combinations out of popular aroma notes.
What is fragrance wheel?
A fragrance wheel is a wheel which lists various known and popular aromas in a circle. Akin to the colour wheel used in paintings, the fragrance wheel serves as a tool to identify different scent notes, especially when combining two or more aromas.
The aromas which appear next to each other on the wheel have common traits which easily blend into one another. For instance, Floral Amber, Soft Amber and Amber appear adjacent to each other because they have similar olfactory notes.
On the other hand, fragrances which are opposite each other on the wheel have contrasting characteristics. For example, the smell of Dry Woods is the polar opposite of the scent found in Soft Floral.
Please bear in mind that creativity has no bounds. The fragrance wheel is meant as a guide to help creators experiment with various fragrances. Truly creative makers might successfully create a new aroma using contrasting notes or similar notes. It all boils down to personal taste and craftsmanship.
A great example of an experimental aroma is Dunhill Hotel Inspired Scent by Shiora. It balances the woody notes of leather and vetiver with the delicate touches of cardamom and lavender. Similarly, you can use the fragrance wheel to try new flavours and scents.
What are fragrance families?
Think of fragrance families as categories on the fragrance wheels. Each type or fragrance type consists of aromas with similar traits and characteristics. Due to this, the fragrances of a family appear next to each other on the fragrance wheel.
A typical fragrance wheel is divided into four sections or families. These families are – Oriental (or Ambery), Floral, Fresh and Woody. For instance, all scents appearing under the Floral family will share similar aroma notes.
Interestingly, each family can be further divided into scent subgroups. Each subgroup has something extra that the other subgroups do not have. However, all subgroups within a family share the same base flavours. For example, when you add specific scent notes to Floral, you create the soft Floral subgroup.
Another exciting concept is that scent subgroups of different families may share common traits if they are adjacent on the fragrance wheel. For instance, Aromatic falls under the Fresh family, while Dry Woods is a part of the Woody family. But since they are next to each other on the fragrance wheel, they share some typical notes, despite hailing from different fragrance families.
Fragrance Wheel and its respective scent families
This section will act as your fragrance families guide. As mentioned before, a typical fragrance wheel comprises four olfactive fragrance families:
The Floral family comprises scents like Fruity, Floral and Soft Floral.

The Ambery family consists of fragrances like Floral Amber, Soft Amber, Amber and Woody Amber.

The Woody family contains aromas like Woods, Mossy Woods and Dry Woods.

The Fresh family or Fougere fragrance family has notes like Aromatic, Citrus, Water and Green.
This is a basic fragrance family chart. Depending on the expertise of the perfumer, a fragrance chart can be highly nuanced with fine detailing.
For instance, you can break down the fragrance as mentioned above chart according to subgroups. In that case, your aromas would be classified as follows:
Floral contains the smell of freshly cut flowers.

Soft Floral captures the fragrance of powdery and aldehyde notes.

Floral Oriental takes inspiration from sweet spices and orange blossoms.

Soft Ambery denotes the spiritual essence of amber and incense.

Woody aromas have a grounded, deep fragrance like leather, sandalwood and oakmoss.

Fruity fragrance has a non-citrusy aroma of fruits and berries.

Citrus scent has the smell of citrus oils and Bergamot.  
Likewise, each family and subgroup has a unique fragrance, and you may prefer to use your favourite note for your surroundings at work or home. But for perfumers, experimenting with different notes is more enticing as it allows them to showcase their expertise in conjuring new fragrances.
How to use the fragrance wheel?
You should learn about the different subgroups mentioned on the fragrance wheel to use the fragrance wheel. Try understanding the origins of a scent, along with its contents and their actual smell.
Remember that there are no right or wrong answers when mixing fragrances. It all boils down to your personal taste and the purpose of your new fragrance.
Ask yourself questions like – where will you use the new fragrance? Is it for your home or workplace? Do you need a new fragrance for a special event or party? Answering such questions will help you mix the right notes.
For example, plan to throw a brunch on a sunny afternoon. A combination of something Green and Fruity with a hint of Woody Amber should do the trick. The citrusy and fruity flavour will add some freshness to your brunch. At the same time, the woody fragrance will help ground the overall scent.
Similarly, you can make many more combinations depending on the occasion. Another example would include using Aromatic and Dry Woods for a cosy dinner party with loved ones. These scents add warmth to the surrounding, perfect for ending the day with good food, conversation and laughter. The permutations and combinations are endless.
5 important tips when using the fragrance wheel
Keep a few pointers in mind now that you have learned how to use the fragrance wheel.
1) Mix fragrances from families opposite of each other on the wheel.
After deciding on the fragrance subfamily, mix the preferred note with a note on the other side of the wheel. This contrast is bound to leave a desirable impression.
2) To create a strong and unique scent base, mix and experiment with aromas next to each other on the fragrance wheel.
3) For a remarkable olfactory experience, go for triad subgroups.
This means mixing fragrances which form a triangle on the fragrance wheel. For instance - Citrus, Soft Floral and Woody Amber create a triangle. This combination is sure to be a delight.
4) Brush up your knowledge on different types of scents, their ingredients, and their impact.
It will save you a lot of time when you actually sit down to experiment with different notes.
5) Be open to new scents and fragrances.
While everyone has a favourite aroma they cannot get enough of, you should still be open to trying new things. You never know what unique combination could become your new favourite. Before you know it, you'd be using that scent all around your house.
Lastly, take things slow. Do not mix a dozen flavours all at once. You will end up with a confusing concoction with no identifiable fragrance. Use a single note at a time and work your way up slowly.
Notable Scents of the Fragrance wheel:
You are now already familiar with the different scents list. So far, the article has also provided many examples of fragrance families. In this section, you will learn about these unique fragrance families in more detail and depth.
Understanding subgroups and unique scents are essential in determining your new fragrance's aromas. Don't forget to have fun while experimenting because what is the point of learning so much if you cannot enjoy it?
1 Ambery Fragrance Family
The first fragrance family is Ambery. Many perfume enthusiasts prefer Ambery notes due to their sweet scent. In addition to their sugary fragrance, Ambery is associated with sophistication and richness. Think of all the exotic and sensual scents - they perfectly describe the Ambery fragrance.
Some popular Ambery scents include – vanilla, exotic orchid, spicy cinnamon, aromatic cardamom and many more. An exciting fragrance in the Ambery department is the Cotton Candy Scent. It is not your typical Ambery note but still manages the check all the boxes of luxury and chicness.
The subgroups of Ambery consist of the following classes:
Ambery –

 The aromas in this category are identified by their deep musky scent. Some of the notes in this category are resins, vanilla, cinnamon and other deep spices.

Soft Ambery –

 As the name suggests, these Ambery notes have a certain lightness to their appeal. You can detect some anise and floral inspirations in the fragrance.

Woody Ambery –

 These Ambery notes have warmth and an earthy quality. Such scents often combine with patchouli and creamy sandalwood to bring the Ambery cosiness.
2 Fresh Fragrance Family
The citrus scent of Fresh fragrance imparts energy and vibrancy to any surroundings. By inhaling the fresh scent, everyone is bound to let loose and honestly give in to the moment's pleasures. In terms of notes, Fresh fragrances are the most diverse of them all. They can be oceanic, citrusy, bright or herbal. This is why you will find Fresh notes in many rooms and air fresheners.
The chief subgroups of Fresh are:
Aromatic –

 Known for their enticing scent, Aromatics balance sharp and spicy notes with woody mellowness.

Citrus –

 As the name suggests, Citrus scents are bright and tangy.

Water –

 Think of aquatic themes and marine notes.
3 Floral Fragrance Family
Who does not like the fragrance of flowers? There is a reason why Floral is the most popular fragrance in the world. As the name suggests, the floral scent smells of freshly cut flowers. Many people associate the Floral fragrance with feminine qualities. This is why many weddings and bridal showers have the familiar sweet floral scent.
However, do not be fooled by the simplicity of Floral fragrances. With the right combinations, Floral scents can become complex and sophisticated. Every aroma like Rose, Jasmine and Lily has a unique sweetness, which can be switched up in intensity depending on the requirement. The Citronella Scent by Shiora is an excellent subtle example of the Floral fragrance.
Here are the subgroups of Floral:
Floral Fresh –

 Freshness is the focus here. Floral Fresh fragrances can range from spicy and bright like Lily to smoky and woody like Rose.

Soft Floral –

 The Soft Floral category is famous for its powdery and aldehyde notes.

Floral Ambery –

 As the name suggests, this subgroup has the richness of Ambery and the freshness of Floral. Think of sweet spices and orange blossom.
4 Woody Fragrance family
Deep earthy notes characterize the woody scent. Usually, woody notes are used to balance out other brighter notes as they add weight to the overall fragrance.
Woody –

 Think of notes like patchouli and sandalwood.

Mossy Woods –

 Mellow and smooth, these scents are known for being light.

Dry Woods –

 These scents have a smoky aroma which adds depth. 
Conclusion
If you are looking for fragrance wheel essential oils, Shiora home fragrance has covered you. We offer a wide variety of essential oil and reed diffusers for your home, office and hotels. Regardless of where you use the aroma, you are bound to leave your guests impressed and inspired.