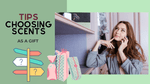 Best Tips of How To Choose A Scent To Gift Someone Else
Teacher's Day in Singapore 2022 is on the 2nd of September. Have you thought of what to gift to show your appreciation to them?
Letters from the students are definitely heart-warming, but how about pairing them with something unique and practical?
For teachers who love to take care of themselves and their homes, gifting scented products is recommended! "I don't know how to choose scents for someone else though.." Yes, we are here to help you choose scents for someone else! First thing first, do you know that person's signature scent?
What is someone's signature scent?
Someone's signature scent is an excellent way of recognising a person. It is an accessory that talks about the personality of the person. People often associate particular smells with particular people, and a signature scent rightfully leads you to a person. Given the strong notion of human olfactory senses, a signature scent becomes a rather crucial component of a person's style and personality. 
Gifting a scent can be a fantastic unique Singapore gift. There is a chance that the bouquet you pick for a person might end up becoming their signature scent!
Read on to learn tips for choosing a scented gift for someone else.

1. Find out about their favourite type of smell
The first step in choosing the right scent is knowing the person's preferences. Every person has a specific inclination towards a particular type of smell. Some like more citrus and floral smells, while others prefer woody ones. If you can not know their preferred smell, try to find their desired fragrance family. This will help you to gift a scent that they will instantly like. 
There are different ways to find out someone's favourite type of smell. The simplest way is to ask them. Just be careful to slyly ask this question in a conversation, so they miss this hint. Another way is to pay attention to their current chosen fragrances. It can be their perfume, fragrance used on their aroma diffuser, or home fragrances. This can give you an idea of their choices.

2. Choose a brand with quality products
When you are gifting something, you must ensure it is of supreme quality. Gifts often speak more about the giver than the receiver. So, it is essential that you choose a brand whose reputation speaks for itself. For someone choosing amongst Singapore gift options, you can search through Shiora's catalogue.
A brand with quality products will ensure that you gift fresh, latest, and trending gifts to someone. Representatives of the brand will also help you in making the right pick. They can aid in matching a personality with a fragrance. Simply talk to us on Shiora Instagram, and we will act as a double check on your chosen scent.
Why need a quality brand? Quality scent brands will ensure the smell is authentic, making it easier to relate to the scent.

3. If you are unsure, keep it light
If you do not know the person's preferred scent, it is wise to go for light or classic scents. You can opt for Citronella or Sweet Orange, as these fragrances are classic bestsellers. You can also choose lavender, as it is of the top preferred aromas for aromatherapy. It is known to relieve stress and has soothing power. Do not pick strong or overpowering smells because these are risky bets. Go for relatable scents like lavender, lemongrass, citronella, and peppermint if the person likes the natural smell.
These best-selling products cannot go wrong for anyone because the person can put these scents anywhere in their homes.
For example, lavender goes well in any bedroom, and lemongrass or citronella goes well in the bathroom and works as a natural insect repellent. Peppermint will kill the food smell in the kitchen as you cook.
Choose the best-selling reed diffusers here!

4. Get a bundle set to try out different scents
A bundle set can be labelled as an experiential gift. It gives the privilege to the person to pick the scent they like the most, which is why it is one of the top unique gifts Singapore offers. A bundle is also a good choice for people whose tastes are unpredictable. They might not stick to a single scent and want to explore different fragrances with different activities. A bundle becomes a perfect gift for such people. They can use other fragrances in different rooms or try them one by one as well.
Another approach to gifting a bundle is to combine the popular aromatherapy scents. Lavender, Lemongrass, Eucalyptus, and Bergamot are the most famous and trendy. You can make a bundle of these popular fragrances and gift it. This would be a lovely gift for someone who uses different fragrances for different moods. These aromatherapy scents have many different positive effects on the mind as well. So, the receiver can use them in shuffle mode.

5. Starter kit is a good idea too
A starter kit is a sustainable approach to choosing a scent for someone. It is a wise decision and ensures you do not mess up with their preferences. You can pick a starter kit based on the personality or character of the person. 
Shiora's Home Scents Starter Kit:
This bundle includes 3 compact spray bottles of your choice to choose the scents you are curious to try out. They will come with complimentary cards and strings to hang in their wardrobe or room.
This starter kit will give your recipients an option to easily use and try out before getting a bottle with more oils. It will be easier now to come back to get Shiora Reed Diffusers or Essential Oils of the scents they fall in love with!
Starter kits are also excellent gifts for people who have recently shown interest in aromatherapy. It is a chance for them to explore more fragrances. Starter kits, in such cases, become a means for them towards their signature scent.

Recommended aromatherapy scents for anyone:
Lavender
Lavender essential oil benefits:
Reducing restlessness, nervousness, agitation, and depressive symptoms.
Lavender affects the system responsible for body functions like hormone secretion, breathing rhythm, and heart rate.
Inhaling Lavender essential oil is the best method to calm an anxious mind.
Best use in the bedroom to improve the ease of breathing when waking up with a stuffy nose.

 Lemongrass
Lemongrass essential oil benefits:
Relieve soreness in muscles and joints after exercise.
Reduce the symptoms of cough, cold and fever.

Good antiseptic and have anti-bacterial properties. 

Relax stomach tension.
Eucalyptus
Eucalyptus essential oil benefits:
Reduce airway inflammation to get faster relief from coughs.

The sweet scent of eucalyptus makes the air easier when inhaled.

Tackle respiratory discomfort and getting relief from tired muscles.

Clear breathing, boost the immune system and energise the body.
Bergamot
Bergamot essential oil benefits:
Calm pain and inflammation, reducing the symptoms of muscle aches, sprains, headaches, and more.

Promotes cheerfulness, a feeling of freshness and enhanced energy.

Improves blood circulation.

Prevents infections and fights off organisms responsible for causing illness in your body.
For all your home fragrance needs, Shiora is the place. We have a wide variety of aromas available, matching different personality types. Our products are of supreme quality, making them the perfect gifts. The packaging is casual, and our reed diffusers symbolise caring for everyone's home.
Conclusion
Subscribe to Shiora newsletter to get notifications for our weekly newsletter, including inspirational gift ideas, and also enjoy a free reed diffuser starter kit to test out our scents.