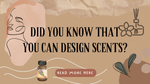 A Guide to Use Scent Design As an Interior Design
Great interior design should offer a sensory experience. Interior design is experienced by the eyes and through touch. Adding scent to interior design can enhance the overall experience, taking your home aesthetics to a different level.
You can use refreshing scents to make your home smell better. When used correctly, scent design becomes a part of your home's interior design. This guide explains how you can do this to create an aesthetically pleasing effect.
Power of Scents – How Scents Affect Us?
The sense of smell is the strongest among our senses—most of the emotions that we experience come from scents. According to a research, there is a strong association between scents and memories. When you smell a delicious cooked dish, you likely recollect the memories of a vacation at grandma's house.
Scents have a powerful effect on the mind, body, and soul. The significance of scents is that they directly connect to the hippocampus and amygdala – the parts of the brain that store memories. Scents create nostalgia, something that is not found in other sensory memories. The memories that arise from scents are compelling; therefore, incorporating scents in interior design can be a good idea.
A scented room can have a substantial effect on your mood. Scents associated with pleasant memories can help uplift your mood. New scents in a well-designed home make you feel comfortable and also help to create new memories. You can use a range of fragrances in your home and make it a part of your interior design.
How Do You Design Scents?
You can design scents for your home by choosing a mix of aromas. Apart from sprays, you can use reed diffusers, essential oils, candles, and other ways to fragrance the interiors. There are different things to keep in mind while selecting scents for your home. You can go through the guidelines below to help choose the best scents just for you!
Choose Scents that Match Your Aesthetics
While selecting scents, keep in mind how to make your room become aesthetics or the style that would help you enhance your interior design. You can choose the scent based on the aesthetic type because the smell selected must be in harmony with the surroundings. When you design each room in a home, it creates a particular aesthetic effect.
The scent you choose for the room must complement the effect of the visual design. You can choose different scents for different spaces in your home. For example, a fresh fragrance like lemongrass is essential for the kitchen. It would be best to have a warm and soothing scent in the bedroom like lavender, and floral smells like bergamot are fabulous for a powder room.
Decide Your Mood By Scent Mapping Your Home
Scent mapping involves creating a setting in the room that helps to create a particular mood. Aromas are known to be mood-changing. Using a fragrance like lavender in the bedroom can help create a rejuvenating and soothing effect. When you use eucalyptus in the bathroom, it creates a spa-like effect. Also, thyme and pine are great fragrances for the living room.
It is believed these scents help stimulate conversations. A zesty lemon scent such as lemongrass or citronella is a good option for the kitchen since it keeps away strong food smells. If you have a workspace at home, consider using rosemary or peppermint scents since they help reduce mental fatigue and boost memory.
Choose the Right Home Fragrance Products
Once you use scent design as a part of interior design, getting home fragrance products are essential. Knowing about various fragrance products is important so you can decide which suits your needs the best. The following guide will help you decide:
Reed Diffuser

: Reed diffuser sticks are different from incense sticks. While incense sticks need to be lit, reed diffusers are used along with scented oils to emit a fragrance. A good quality aroma diffuser from Shiora range of diffusers would last for months, making it a great home fragrance product. The subtle scents reed diffusers release make them ideal home fragrance blends to furnish in your home. Furthermore, reed diffuser is a diffuser that doesn't use water and therefore, easy to use and is convenient.

Scented candles

: A candle can help create a visual and a scent effect in your room. These popular products come in different types. Unlike diffusers, they don't last long and need to be replaced frequently.

Sprays

: These are easy products that work instantly. The problem is that the effect is not long-lasting. Also, unlike diffusers and candles, they don't add a visual effect.
Try Out Different Scents to Find Your Signature Scent
You need to find a signature scent for your home and for yourself. The signature scent is something that is unique and helps to create a strong association with a particular thing. For example, top hotel brands use signature scents that help you recollect the brand. Similarly, you need to find a fragrance or a combination of smells that create such an effect.
Try out different scents until you find that unique scent that enhances your home's interior design. You can try out this by getting bundle offers of home fragrance products Singapore. It comes in a small amount and a few types to try out before deciding which scents to get as a full-sized blend.
Conclude Guide to Use Scent Design
You need to get the quality home fragrance products when choosing scents. This will ensure you get the best smell that meets all your needs and is a quality product. Shiora is one of the best reed diffuser Singapore known for its range of quality products and can be used in interior design Singapore. Visit Shiora Instagram page to learn more about tips to improve your home living.
You may also like: The Complete Guide to Bedroom Decorating Ideas and How They can Help You Sleep Better