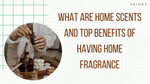 What are home scents and top benefits of having home fragrance
The way each person has a signature scent, every home, too, has one. However, most homes smell the spices cooked on a regular basis or the home cleaner disinfectant they use. The toilet and wash areas will have the smell of the cleaning ingredients which are used there. And no one wants to welcome people home with such a smell. This article will tell you what a home scent is and why it is essential.
You may also like: Choosing a signature scent for someone.
Why are home scents important?
You should use home fragrances if you want your home to smell like rose, jasmine, or any other flavour. This will lift your and your family's mood, and your guests will always love to visit your place. These home scents also have therapeutic qualities and are perfect for anyone with migraine and stress-related ailments.
What is a home fragrance?
Home fragrance products include scented candles, essential oils, potpourri, incense sticks, room fresheners, or any other product which has its own perfume. These products have the ability to spread that scent around them.
You may use home fragrance diffusers like reed diffusers and inhale the therapeutic essential oils, which will help you overcome stress and many other ailments.
5 Benefits of having a signature home scent
In this guide, let's take a look at the top benefits of having a signature home scent.
1. Takes away bad odour
If there is any foul odour present in your home due to rotting food items, or smelly clothes, using a home fragrance will help you get rid of it.
2. Rejuvenates the family members
Keeping a bottle of Shiora home fragrance at home will take away the stress of all your family members. Whether they are working professionals or students, everyone goes through the daily stress that life presents us with. They will feel relaxed and happy in an environment, and the essential oils will perform their magic.
3. Induces deep sleep
Regular hectic lives often leave people tired and sleepless. In spite of working very hard, we don't get proper sleep at night. Essential oils soothe our nerves and help us to drift into a deep sleep.
4. Signature home scent
Once you start using a particular home scent, your guests and friends will start associating it with your home. Even though other smells in a household get mixed with the aroma that the diffuser is dispensing, the base scent remains your signature. Others can recognise it easily and relate to you better.
5. Lifts the mood
People are always in a happy mood in homes where the signature home scent is pleasant because these home scents have that therapeutic power. Along with relaxing the tired nerves and reducing insomnia, these essential oils will look after the well-being of your entire family.
What is the most welcoming scent?
Shiora home fragrances will transport you to another world. They will fill your space with happy thoughts and inviting feelings. Let's look at some of the most popular home fragrance diffusers available on our website. We have an aromatherapy series and hotel-inspired series for you to choose from.
Available in a bottle of moderate size of 100 ml, this aromatherapy fragrance will fill your home with an amazing chocolate smell. So whether you love dark chocolates or loads of nuts in your chocolate milkshake, you will definitely fall in love with this home fragrance. And come to think of it, this chocolate will not even make you check your waistline, isn't it convenient? (*reed diffusers are not for consumption.)
This signature scent is part of a limited edition series, hence grab your bottle before they are sold out. They will help you with anxiety management and assist you in sleeping better.
If you love mountains and forests and the natural smells encompassing those spaces, you cannot resist this home fragrance. After selling close to 7000 units, we know that our patrons, too, have fallen in love with this fragrance. 
Extracted with the steam distillation method, this fragrance will transport you to another world. Since cedar wood has balsamic undertones and a camphoraceous odour, this aroma will help you and your children with their concentration power. You can try it out with a 3 ml tester bottle, and if you like the overall factor of this home scent, you can go for bigger bottles. Bigger bottles are available in 50 ml, 100 ml, or 200 ml.
This home fragrance originated in the Java islands of Indonesia; this grassy fragrance will transport you to a playground full of green trees and water bodies.
It will help you and your family to relax and rejuvenate amidst the hustle and bustle of city life. In the form of a scent diffuser, this aroma will naturally repel insects. The stimulating, powerful lemongrass fragrance has a citrusy and slightly fruity smell, which most of our patrons love.
This scent diffuser is perfect for insomniacs, and they aid in relaxation and deep sleep. After a hectic day, just take a hot and refreshing bath by surrounding yourself with your favourite Shiora reed diffuser. Put on some relaxing music and drift off to sleep surrounded by the soothing aroma of tuberose, jasmine, and gardenia in this wonder bottle.
If the child inside you is craving cotton candies, you need not look further. Use this perfect home fragrance diffuser and get lost in your childhood memories of innocence, love, and carefreeness. The soft fragrance encompassing red grape and gentle mint will make your mood playful, just like your childhood days.
This home fragrance diffuser will allow you to customise your own fragrance. It is handmade in Singapore, and you can mix two fragrances from our exotic collection; relaxing lemongrass, forestry cedarwood, garden citronella, refreshing peppermint, and sweet orange and make your own signature scent. 
The Duchess Travel scent, lavender scent, lemongrass scent, Mandarin Travel scent, Shangri-la Travel scent, Sandalwood peppermint, and many other exotic home fragrances are available in home fragrance diffusers on our website. Check them out and keep experimenting with new scents every month!
Conclusion
Now that you know all about home fragrance diffusers and the various options you have at your disposal, it is time to start using them too. The best essential oil products and home fragrance diffusers are available at Shiora, a popular home fragrance product seller. You can visit Shiora's website to learn more about the myriad of available products.