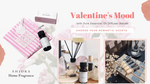 Create the Perfect Valentine's Day Atmosphere With These Top 10 Essential Oil Diffuser Blends
Introduction
Valentine's Day is just around the corner, and you're probably starting to think about how to set the mood. Why not try diffusing some essential oils to create a romantic atmosphere?
There are a lot of different scents that can help set the mood for love, but we've put together a list of our 10 favorite blends. Whether you're looking for something sweet and floral or woodsy and musky, we've got you covered.
So don't wait any longer! These blends are sure to help you create the perfect Valentine's Day ambiance.
What Makes a Great Valentine's Day Scent?
Valentine's Day is all about love and romance, so it's no surprise that many couples choose to spend the day together. What can make the day even more special is if you create a romantic atmosphere for the two of you.
One way to do this is by diffusing your favorite essential oil blends. Not only will the scents fill the room with a lovely aroma, but they can also help set the mood for a relaxing and romantic day.
So, what makes a great Valentine's Day scent? Here are some of our favorites:
• Rose – This classic flower has a sweet, floral scent that is perfect for romance.
• Jasmine – With its delicate and seductive aroma, jasmine is perfect for setting the mood on Valentine's Day.
Check out our Signature Scent Moon Jasmine Reed Diffuser.
• Lavender – Known for its relaxing properties, lavender is perfect for winding down after a long day.
• Vanilla – A soothing and comforting scent, vanilla is perfect for creating a warm and cozy atmosphere.
Top 10 Essential Oil Diffuser Blends for Romantic Atmosphere
Valentine's Day is just around the corner and you're looking for the perfect way to set the mood. Why not try diffusing some essential oils? The right blend of scents can create a romantic atmosphere that will make your special someone feel loved.
Here are 10 essential oil diffuser blends that are perfect for Valentine's Day:
1. Rose and Lavender: This blend is floral and sweet, perfect for setting the mood on Valentine's Day.
2. Orange and Cinnamon: This spicy blend is perfect for turning up the heat on your love life.
3. Jasmine and Vanilla: This sensual blend is perfect for a romantic evening in.
4. Lemon and Ginger: This invigorating blend is perfect for getting you in the mood for love.
5. Patchouli and Ylang Ylang: This earthy blend is perfect for creating a sexy, seductive atmosphere.
6. Bergamot and Geranium: This fresh and floral blend is perfect for a romantic day out.
7. Grapefruit and Mandarin: This zesty blend is perfect for waking up your senses on Valentine's Day morning.
8. Rosemary and Peppermint: This energizing blend is perfect for staying awake on your date night.
9. Eucalyptus and Tea Tree: This purifying blend is perfect for clearing the air before a romantic night in.
10. Sweet Dreams: This soothing blend is perfect for sending you off to dreamland with your loved one by your side
Inspirational Diffuser Blend – Rejuvenate Creativity
What's the best way to get in the mood for V-Day? With some sweet-smelling essential oil diffuser blends, of course! Here's one to get you started.
Ingredients:
3 drops lavender oil
2 drops rose oil
1 drop ylang ylang oil
Instructions:
Add all the ingredients to your diffuser, and enjoy the romantic ambiance it creates. This blend is designed to inspire creativity and rejuvenate your senses. Test out the scent by blending a few of each drops.
Calm & Diffuser
 

Comforting Blend – Relaxation

This blend is perfect for creating a relaxing atmosphere, whether you're spending a romantic night in with your partner or just want to create an inviting atmosphere for yourself. The base of this blend is sandalwood, which is known for its calming and sedating properties, and can help reduce stress and tension. To add a hint of sweetness and romance, you could add some ylang ylang, patchouli and lavender essential oils.

To help balance out the floral notes, try adding some grounding and earthy essential oils like spruce or cedarwood. You can also add a few drops of lemon to support relaxation while adding a bit of warmth and brightness to the blend. Feel free to tweak the proportions of these essential oils until you find the perfect combination that works best for you – the possibilities are endless!

 
Uplifting & Sensual Diffuser Blend – Mood Booster
Looking to really spice things up this Valentine's Day? A mood-boosting blend of uplifting and sensual scents is sure to do the trick. Start with lavender oil, which is known for its relaxing and calming properties, and add in some citrus for a burst of freshness. Then, layer in a touch of ylang ylang to make it sensual and alluring.
This blend is sure to lift your mood and add a romantic atmosphere perfect for the Valentine's Day holiday. Smell it together as you cozy up in front of the fireplace or share it while enjoying a candlelit dinner. No matter how you use it, your date is sure to be impressed!
Unexpected Diffuser Blend – Soothe the Soul
If you're looking for an unexpected blend that still creates a romantic ambiance, try diffusing Soothe the Soul. This blend pairs woodsy and earthy scents of patchouli, cedarwood, and ginger with the exquisite aroma of rose geranium. It's a unique scent that will make your Valentine feel special and relaxed.
Dreamy & Luscious Diffuser Blend – Aromatic Romance
What could be more romantic than a dreamy and luscious blend? The combination of creamy coconut, sweet geranium, and earthy patchouli is truly like a scene right out of a romantic movie. This is an exotic blend that will create an undeniable atmosphere of passion and sensuality.
And it gets better – the combination of coconut and patchouli oils helps you relax so you can connect to your partner on a deeper level. Geranium has been known to help balance hormones, which can help reduce stress and promote better overall wellbeing.
To make this blend even more magical try adding two or three drops of ylang ylang oil for an added touch of romance. This is the perfect scent for a date night with your Valentine!
Citrusy & Refreshing Diffuser Blend – Brighten Your Day
If you're looking for a refreshing and energizing scent that will brighten up your day, this citrusy essential oil blend is a must. You can combine two drops of grapefruit essential oil, two drops of lemon essential oil, and one drop of wild orange essential oil. This blend will leave your home feeling vibrant and cheerful with its bright and fruity aroma.
Grapefruit is known to be uplifting and invigorating, whereas lemon is known to be calming yet energizing. And the wild orange is sure to bring out the best of both in this blend! If you want to add a touch of sweetness, you can also add a drop of ylang-ylang essential oil which has a romantic floral scent. Finally, diffuse this blend for 15-20 minutes each day to create the perfect Valentine's Day atmosphere for you and your special someone.
Floral & Refreshing Diffuser Blend – Feel Rejuvenated
This gorgeous blend of floral and refreshing scents will make you feel rejuvenated and inspired. Mix 1 drop of jasmine, 1 drop of bergamot, and 2 drops of sweet orange to your diffuser. After a few minutes, you'll be filled with an energy that will keep your romantic night going.
The floral notes from the jasmine will bring on a sense of comfort and calmness while the citrus smells from the bergamot and sweet orange will create a feeling of joy. These aromas are sweet, but not cloying, so the scent won't be too overwhelming to your nose or your Valentine's! Plus, when these three oils are blended together they have even more powerful effects on your mood.
Rich & Sweet Diffuser Blend – Balance Your Mind
Take the time to create a soothing atmosphere this Valentine's Day with the Rich & Sweet blend. This blend is designed to bring balance and peace to your mind. You'll need 3 drops of Patchouli, 2 drops of Myrrh and 1 drop of Vanilla essential oil for this blend.
The Patchouli oil helps provide a sense of grounding while Myrrh opens up your heart chakra. The Vanilla oil helps calm and relax your body, making it easier for you to be present in the moment with your loved one.
So why not take a few moments tomorrow night to diffuse this Rich & Sweet blend? A few deep breaths and you'll be ready to take on Valentine's Day with an open heart and mind!
Conclusion
So why not get started on creating the perfect ambiance for your Valentine's Day celebration with these ten essential oil blends? Before you know it, your home will be perfumed with the most romantic scents, and you'll be ready to enjoy a night full of love and laughter with the ones you care about most.
Check out 20 Most Special Valentine's Day Gift Ideas in Singapore 2023 for some inspiring ideas to give your girlfriend, boyfriend, husband and wife this year!