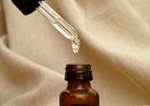 How To Use Essential Oils?
~ DIY aromatherapy, diffusers refill, and cleaning spray with essential oils.
Apply to your skin
Essential oils are fat-soluble, which means the skin immediately absorbs them. A favourite way to enjoy your essential oils is to apply them to your skin for absorption. However, do not apply it directly onto your skin but mix and dilute them with a carrier oil (or base oil) such as sweet almond oil or apricot kernel oil. Your choice of carrier oil will depend on your preference for smell, texture, and sensitivities. To avoid allergic reactions, the best way is to try on your skin for a small area first or do a patch test. (Please consult a doctor if you have sensitive skin.) Carrier oils come in a wide variety: coconut oil, sweet almond oil, jojoba oil, avocado oil, sunflower oil, or grapeseed oil.
Apply on your wrists, temples, feet, or behind your ears to get the best effect from the scents. Never ingest essential oils or apply them directly to the eyes or lips!
Recommended SHIORA skin-friendly essential oils are: 
Get other essential oils here. 
Inhale
Sneak a bottle of essential oils in your carrying bag or put it by the bed or sofa wherever you like to relax! Open a calming bottle, place it a few inches below your nose and slowly take slow deep breaths. Pay attention to the changes you experience within your body as you inhale the aromas. Notice your breathing slow, jaw unclench, shoulders relax, and your sense of well-being increases. When using a new essential oil at first, only inhale for a short time to ensure you don't have a reaction or sensitivity to the oil.
A deep breath isn't a sniff. If you practice slow, deep breaths, your body will signal your mind that it should relax – and your entire body will follow. Your body and mind are connected, and sometimes tricking the physical body into relaxing first will put the mind in a position to reach relaxation as well.
Breathing is vital to keeping you alive. It's simple, natural, and necessary; deep breathing may positively influence health and well-being. It is one of the easiest and most effective ways to calm down and regain serenity when feeling tense. Try deep belly breathing with a Lavender essential oil bottle. It will help to harmonize our nervous system and lessen your stress levels.
After using a reed diffuser, you can try to DIY the refills liquid with some simple steps. Full instructions are given here: CAN YOU REFILL REED DIFFUSERS? (AND HOW TO)
Note that there are dos and don'ts to ensure that you are doing it correctly and safely to avoid unnecessary side effects. 
There are ways to mix and match the different essential oils to DIY your favourite scents, so give it a read and do enough research before starting to DIY one!
DIY cleaning spray
Cleaning spray works best with the additional essential oils to be added in. Certain essential oils have antimicrobial activity properties, disinfect or make the cleaning surface smell refreshing. Try these recipes from Kristen Smith, a certified aromatherapist and trained herbalist, with SHIORA's strong essential oils and DIY your cleaning spray bottles!
Recipe 1:
1 cup vinegar
20 drops of essential oil
1 cup water
Mix vinegar and essential oil well and add the water at the end.
Vinegar-based cleaning sprays are all-purpose glass and surface cleaners. Use this for the shining effects for windows and mirrors, cutting through soap scum, and mild disinfectants. Shake the bottle well to redistribute the essential oils inside. If you do not like the vinegar smell, try the next recipe!
Recipe 2:
1 cup hot water
1 T borax
1 T liquid Castile soap
1 cup of cool water
20 drops of essential oil
Use a glass measuring cup and pour hot water into the borax. Stir well to mix them. Add Castile soap, cool water, and essential oil to the spray bottle. Finally, add the first borax mixture into the spray bottle and mix well.
It works the best with grease, grime, stains, and odours and is a must-have for spot-cleaning carpet and wiping down your stovetop.
Which is your favorite way to use essential oils? Try and let us know in the comment!
Conclusion